Bobby Angel talks about the story of St. Padre Pio, a powerhouse saint who went all in for Christ.
St. Padre Pio experienced temptation and evil at a very young age, having visions of angels, demons, and even Satan at the age of 4 or 5. He wanted to give his life to Christ and become a priest, and entered the monastery at age 15. 
It was in 1918 that Padre Pio received the stigmata: a physical ailment that causes one to develop the 5 wounds of Christ crucified (two on the hands, two on the feet, and one on the side). He developed the side wound first, but tried to hide it in order to not call attention to himself. However, some of the other priests in the monastery noticed that he was bleeding, and it was confirmed that he had the stigmata—a condition of which only about 300 cases are known. 
The press and controversy over his stigmata caused him to have to stop preaching and celebrating Mass, because the monastery didn't want people fearing his wounds. This deeply troubled Padre Pio, and added to his pain. However, as rumors started to spread, people began to flock to the monastery to see Padre Pio for healing, confession, and preaching.

Padre Pio influenced many faithful Catholics, and his holiness was contagious to all he met. He was involved with a countless number of miracles, including the reading of souls, incredible healings, and accounts of bilocation.
Padre Pio shows us that if we turn our full attention to God, truly go all in for Christ, and accept our crosses with open arms, our love of Christ will become manifested in our lives in a way that can transform everyone we meet—and even those we don't.
Jackie and Bobby Angel wrote a book on discernment! It's called Pray, Decide, and Don't Worry: Five Steps to Discerning God's Will and you should check it out.
---
Meet Jackie and Bobby Angel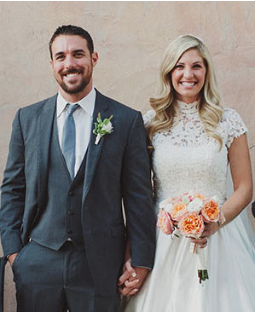 Jackie Francois Angel is a full-time worship leader and speaker. Bobby Angel is a campus minister and theology teacher at a Catholic high school. Married in 2013, they have four beautiful children and strive to grow in holiness each day!