St. Padre Pio suffered from the stigmata for years, but he's also the saint who said, "Pray, hope, and don't worry." How can a person who suffered from open, bleeding wounds for fifty years just say, "don't worry"?

In uniting his suffering to the cross of Christ, St. Padre Pio was able to find peace. Suffering is inescapable, but this great saint showed us how Christians are called, not to try and avoid suffering, but to use it as a way to grow closer to Christ. 
As St. Paul said in Galatians 2:20, "and it is no longer I who live, but it is Christ who lives in me. And the life I now live in the flesh I live by faith in the Son of God, who loved me and gave himself for me."

So bring all your sufferings, from the inconvenience of a messy kitchen, or bigger problems, like illness and injury, to the altar, and offer them up like Padre Pio.

St. Padre Pio, pray for us—and happy feast day!
Snippet from the Show
"The experience of Christianity is not to find a way out of suffering, but to find a way through suffering."
---
Meet Your Host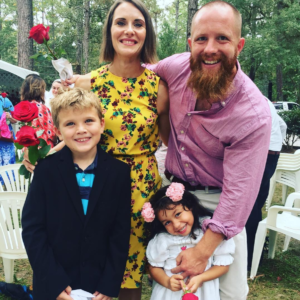 Colin is an enthusiastic transplant to vibrant Louisiana, where he lives with his beautiful wife Aimee and two energetic children, Leo and Zélie. His juggling act involves being a husband, a dad, a teacher, a youth minister, a musician and a national Ascension content creator and trainer.
In his spare time, he eats too many crawfish, savors king cake, plays one-on-one kickball with his son, and tries, for the life of him, to properly load the dishwasher.
Email Colin at thetightropepodcast@ascensionpress.com
Check out Colin's latest work with Ascension:  Power and Grace: A Guide to the Catholic Sacraments and Quick Catholic Lessons with Fr. Mike.