Given the fact that we're told to fast, pray hard, and give alms during Lent, there is a tendency to think Lent should be sad. But this isn't true. Christ says:
"And when you fast, do not look dismal, like the hypocrites, for they disfigure their faces that their fasting may be seen by men. Truly, I say to you, they have their reward. But when you fast, anoint your head and wash your face, that your fasting may not be seen by men but by your Father who is in secret; and your Father who sees in secret will reward you."

Matthew 6:16-18
Lent is supposed to help you bear the fruit of the Holy Spirit, which is "love, joy, peace, patience, kindness, goodness, faithfulness, gentleness, self-control" (Galatians 5:22). If our Lenten sacrifices are not bearing this fruit, something is wrong.
Looking at the lives of the saints, we see how joyful they were in the midst of their sacrificing. Any discomfort they had they offered to God, and the devil just could not prevail over them. This is what Lent is supposed to do for us too. We give up something good, like that extra half hour of sleep, in order to see that we don't need it. This draws us closer to God as we see that he is all we truly need, and we subsequently become spiritually stronger and more free.
"Therefore, since we are surrounded by so great a cloud of witnesses, let us also lay aside every weight, and sin which clings so closely, and let us run with perseverance the race that is set before us, looking to Jesus the pioneer and perfecter of our faith, who for the joy that was set before him endured the cross, despising the shame, and is seated at the right hand of the throne of God."

Hebrews 12:1-2
Our Lenten sacrifice should be imbued with the hope of the Resurrection. Are you trying to figure out what to give up for Lent? What are some good things you're holding onto that you don't need? Whatever it is, it will pale in comparison to the hope, self-mastery, and freedom that will come from giving it to Christ this Lent.
More content for Lent:
---
Meet Jackie and Bobby Angel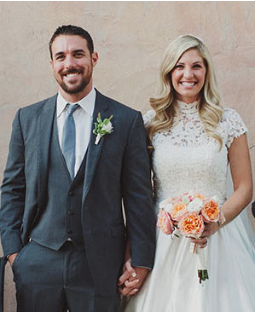 Jackie Francois Angel is a full-time worship leader and speaker. Bobby Angel is a campus minister and theology teacher at a Catholic high school. Married in 2013, they have three beautiful children and strive to grow in holiness each day!