Jackie and Bobby explain why we tend to see the worst in people, and how to stop.
It's difficult to ignore the increasing amount of division, hatred, and negativity in today's media. As it surrounds us day-to-day, it can be hard not to think people are just plain mean. It's psychologically normal for us to assume that someone's behavior is directly associated with their character, and not just their current situation. But it's important that we give people the benefit of the doubt, and to remember that maybe this negativity or harsh behavior is just the result of a bad day.
This is especially important when it comes to our roles as Catholics, who are called to not only speak the truth, but to love our enemies as ourselves. The greatest commandment we have from Jesus is to love one another as he loves us, and that means seeing our brothers and sisters as God sees them. When it comes to our social media accounts, the relationships in our lives, and the way we treat those around us, that's what shows others we are followers of Christ.
This isn't going to be an easy attitude to adopt, especially when we have people attacking us for our beliefs and for proclaiming the truth of Christ. We need to pray and ask the Lord for the strength to act with charity first, not assumption.
At the end of the day, if we strive to show others the love of God and speak with truth and charity, we can adopt a more positive attitude towards our brothers and sisters, and begin to see them as Christ does. 
---
Meet Jackie and Bobby Angel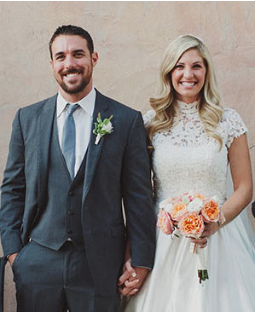 Jackie Francois Angel is a full-time worship leader and speaker. Bobby Angel is a campus minister and theology teacher at a Catholic high school. Married in 2013, they have four beautiful children and strive to grow in holiness each day!