Angels are an important part of…well…reality! There are, God knows how many, creatures out there lighting, guarding, ruling and guiding. (There are others, fallen angels, seeking the ruin of souls.) Don't forget that when you are seeking daily balance and progress. Pray to your guardian angel. Pray that powerful St. Michael prayer to ward off evil and plant yourself firmly in the service of God in the war for souls. Angels are with you, on either side of your tightrope, trying to keep you upright.
For more on guardian angels, see this article, Guardian Angels, Watch over Us.
And check out the latest from your host, Colin MacIver: Power and Grace: A Guide to the Catholic Sacraments and Quick Catholic Lessons with Fr. Mike.
---
Meet Your Host, Colin MacIver: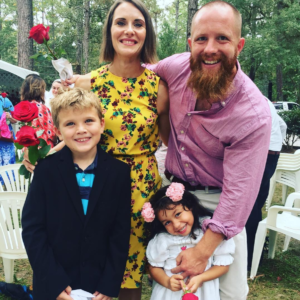 Colin is an enthusiastic transplant to vibrant Louisiana, where he lives with his beautiful wife Aimee and two energetic children, Leo and Zélie. His juggling act involves being a husband, a dad, a teacher, a youth minister, a musician and a national Ascension content creator and trainer.
In his spare time, he eats too many crawfish, savors king cake, plays one-on-one kickball with his son, and tries, for the life of him, to properly load the dishwasher.