Fr. Josh answers questions about what to do when you feel angry at God because of unanswered prayers to alleviate the suffering of a loved one, if cohabitation is a good solution to handle an unexpected pregnancy before marriage, and which translation of the Bible is the best to get started with.
---
"The more you perceive your prayer to be unanswered, the more intense your prayer becomes and the more you lean into the person of Jesus Christ and are drawn into an intimacy with him."
---
SHOWNOTES

Glory Story (1:45)

Listener Feedback (6:52)

Unanswered Prayers (8:52)

Hi Father Josh, I found your podcast recently and your topics are super interesting and you give 'rock star' advice based on our faith. We are catching up on older episodes and my wife and I heard your answer from a couple of months ago to a question about finding happiness when depressed. Here's my situation: I have a teenage daughter with severe anxiety and depression. We are taking her to the best experts we can find and getting her the best treatment/medications that we can. It's been a couple of years now and it seems like nothing is working and if anything, it's getting worse. My daughter doesn't even want to go to Mass anymore with us and has essentially turned her back on God. I know I'm biased but my daughter is a great person who used to love God and I can't see the redemption in her suffering. I know that I can't see what God plans for us and have asked God to please give me her pain but she's still suffering with this. I also know Mary also suffered her son's immeasurable pain for us. My wife and I have turned everything over to Jesus and intellectually we know He wants us to trust Him with our problems but, if I'm honest, I'm starting to get angry and resentful. Do you have any advice on how to deal with my anger and resentment towards God after so many years of praying, fasting, trusting, etc., with the situation not getting better? Thanks for all you do.
– T

Unplanned Pregnancy Before Marriage (16:03)
Aloha, Father Josh! Warm greetings from Hawaii! Before my question, I just want to say thank you so much for being a conduit of God's grace and wisdom to so many lives. Your podcast challenges and inspires me every week; I pray for your strength as a priest and in your ministry. May you always be blessed.
My question: About two months ago, my boyfriend and I learned that I am pregnant. We have been together for 11 months, we are both in our later twenties, active in parish ministry and not living together. After finding out that I am pregnant, I sought counsel first from my spiritual director, a religious sister, who advised us to tell our priests that I step down from ministry for this time. Our priests were very understanding and supportive. One of our priests asked us what our plans were regarding our relationship. We told him that we both intend to be married, but he advised us that if there is any form of "pressure" to be married (pregnancy being one of them), we need to pause the marriage preparation, which we understood. During this time, we also sought advice from another couple in our church who has gone through the same thing (pregnancy before marriage, but cohabited then married when their firstborn daughter was 2 years old), and they advised that because consistency is so important in our child's life, it is recommended that we live together. I feel very torn about this. Yes, we struggle to be chaste… but knowing the high divorce rate of couples who cohabitate before marriage, I really don't want to live with my boyfriend before we are married. This is difficult too because at my boyfriend's home, he has a lot of family members who can help us with our baby, but at my own home, it's just my sister and I. I don't know what to do. Please let me know what you advise, Father. Thank you so much.
– Anonymous

Bible Translations (24:03)
Hey Fr Josh! I want to thank you for taking the time to put out this podcast. I have truly been inspired to be more intentional in the practice of my faith. I feel called to dive deeper into studying Scripture, but I've already hit a speed bump. There are SO many translations of the Bible. Which is the most accurate translation? Do you have a favorite Bible you can recommend? Thanks for your time.
– Amanda

Resources
---
Meet Your Host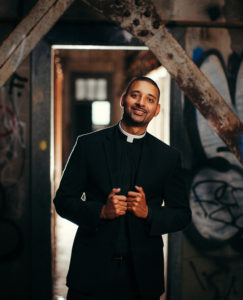 While Fr. Josh was raised Catholic, he didn't like the Church growing up. Then, one day in adoration, he fell in love with Jesus and received the call to become a priest.
Now, Fr. Josh is the pastor for Our Lady of the Holy Rosary Catholic Church in Louisiana, and he is a presenter in three of Ascension's programs: Altaration, YOU: Life, Love, and the Theology of the Body, and The 99 as well as the author of Broken and Blessed: An Invitation to My Generation.