A face-to face encounter can be a powerful thing. I experienced this with my own son while praying for someone who was sick and suffering. Leo's sincere prayer for their deliverance brought me to tears. An offering like this is something we can all make. Before Lent, come face-to-face with the holy face of Jesus, and make a sincere offering.
Snippet from the Show
"An encounter that's face-to-face is really the heart of the spiritual life. We seek to look into the eyes of Christ."

---
Meet Your Host, Colin MacIver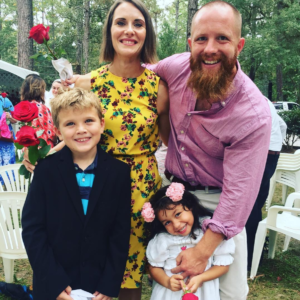 Colin is an enthusiastic transplant to vibrant Louisiana, where he lives with his beautiful wife Aimee and two energetic children, Leo and Zélie. His juggling act involves being a husband, a dad, a teacher, a youth minister, a musician and a national Ascension content creator and trainer.
In his spare time, he eats too many crawfish, savors king cake, plays one-on-one kickball with his son, and tries, for the life of him, to properly load the dishwasher.
Check out Colin's latest work with Ascension: Power and Grace: A Guide to the Catholic Sacraments and Quick Catholic Lessons with Fr. Mike.