Fr. Josh dedicates today's show to talking about the racial divide in our country, amidst the mourning of George Floyd, and offers some counsel on ways we can heal this form of division in our country. 
Snippet from the Show


"George Floyd is the Body of Christ"
---
Shownotes
We pray for the repose of the soul of George Floyd and all those who have died under racist motivations. We also pray for our country during this time of division and violence, as well as the ongoing Coronavirus pandemic.
Seven things you can do to help heal the racial divide in our world:
Pray the Litany of the Body of Christ

"[Insert Name] is the Body of Christ."

Pray the rosary for racial reconciliation
Visit other Catholic parishes, especially those of a different race, and worship with them
Spend some time in front of the Blessed Sacrament repenting for the sins of others
Do your own research on racial division, even if you don't agree with everything being said, and pray after listening 

Watch the documentary on Netflix, The 13th 
Read articles and books like the White Fragility by Robin DiAngelo and The New Jim Crow by Michelle Alexander
Listen to podcasts speaking on the racial divide
Follow black or brown voices on social media like Chika Anyanwu and Avera Maria Santo

Take a pilgrimage to the Equal Justice Initiative Museum and Memorial
Protest places that don't allow colored memberships and diversity like country clubs, Mardi Gras balls, private schools, and Catholic conferences
Meet Fr. Josh Johnson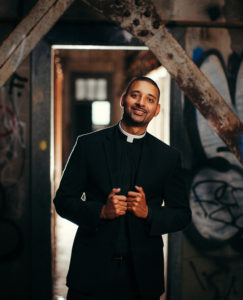 While Fr. Josh was raised Catholic, he didn't like the Church growing up. Then, one day in adoration, he fell in love with Jesus and received the call to become a priest.
Now, Fr. Josh is the Vocations Director of the Diocese of Baton Rouge in Louisiana. He is a presenter in four of Ascension's programs: Altaration, YOU: Life, Love, and the Theology of the Body, The 99, and Connected: Catholic Social Teaching for This Generation, as well as the author of Broken and Blessed: An Invitation to My Generation, Pocket Guide to Adoration, and co-author of Pocket Guide to Reconciliation.