This week, Fr. Josh invites you to pray a decade of the rosary with him and Tara Winder for the intention of repentance. True repentance leads to authentic racial reconciliation within the Church and our nation.
---
Shownotes
Fr. Josh prays a Lectio Divina Rosary, where he will read a piece of scripture, pray on it, and then apply the section to his decade.
"And as they led him away, they seized one Simon of Cyre′ne, who was coming in from the country, and laid on him the cross, to carry it behind Jesus." Luke 23:26
Text "askfrjosh" to 33-777 to subscribe to Fr. Josh's shownotes
Email your questions and feedback to Fr. Josh at askfrjosh@ascensionpress.com.
Meet Fr. Josh Johnson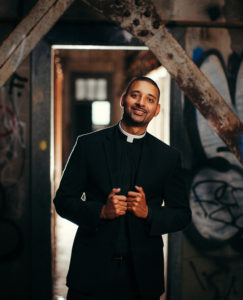 While Fr. Josh was raised Catholic, he didn't like the Church growing up. Then, one day in adoration, he fell in love with Jesus and received the call to become a priest.
Now, Fr. Josh is the pastor for Our Lady of the Holy Rosary Catholic Church in Louisiana, and he is a presenter in three of Ascension's programs: Altaration, YOU: Life, Love, and the Theology of the Body, and The 99 as well as the author of Broken and Blessed: An Invitation to My Generation.
Has Ascension's free media strengthened your faith?
You can now offer ongoing support for this content with a recurring gift.
Support Ascension
Get your favorite Ascension content sent right to your email!