This week, Father Josh answers questions on addiction to pornography and what we can do to help heal the racial divide within the Body of Christ in our country. 
Snippet from the Show


"Our prayer must influence us and inspire us to manifest love."
---
Shownotes
Glory Story (2:55)
What to do if your significant other has an addiction to pornography? (9:58)
Dear Fr. Josh,
Firstly, I love your show and the clarity you provide on so many difficult topics related to the Catholic faith. Thank you for all you do in evangelizing and educating us listeners. I have a moral dilemma, and I was wondering if you could help guide me. I've been chastely dating a wonderful man of God for over two years, and we have very similar values.
This past fall I asked him about pornography use, and he admitted to struggling with this sin for over 15 years. He said he had been making extra efforts to stop since our relationship started, but was still struggling. We've had multiple conversations about this and he said he was determined to stop which he successfully did for five months through prayer distraction and an accountability partner. Unfortunately, with this time of quarantine throwing off routine of going to he gym, Mass and confession, and spending time together, he has again fallen back into this sin. This problem is hurtful to me and causes me so much pain, though I do understand why it is difficult for him too. I've been very clear with him that I will not consider marriage when this is still a problem. Through all of this, he has been completely transparent and honest with me. He is motivated to stop, he has been growing deeper in his faith since we met, he makes me a better person and I can truly picture myself sharing a future with him. 
My moral dilemma is that I have no idea where to go from here. Is this something he should work on individually without the distraction of a relationship? Or is this something we should continue to work on as a couple? I don't want him to subconsciously change for me when he should be stopping this habit for himself and the knowledge of the harms of pornography on himself and a relationship.
– Anonymous
What can we do to heal the racial divide within the Body of Christ? (21:35)
Fr. Josh,
Thank you so much for all you're doing to promote the hope of healing the racial divide in our country. Thank you for making yourself vulnerable in the stories you've shared. While I imagine it is super difficult to do this, it is helpful as a white female and loyal listener to have a face with a story. The video of George Floyd's death gave us a face with a tragic story, one that the POC community has been telling us for years. We haven't been able to fathom this reality until recently and it is utterly embarrassing Fr. Josh.
My question to you today is, as a faithful Catholic, what can I change in my daily, weekly, and monthly practices to further the healing you so beautifully promote? How can I pray differently, how can I worship differently, how can I spend my time and money better? I'm all in Fr. Josh, thanks again. God bless you for the work you do.
– Penny
Resources:
---
---
Meet Fr. Josh Johnson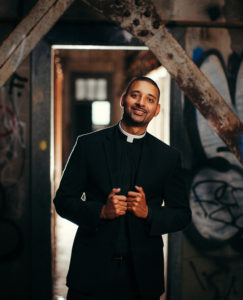 While Fr. Josh was raised Catholic, he didn't like the Church growing up. Then, one day in adoration, he fell in love with Jesus and received the call to become a priest.
Now, Fr. Josh is the Vocations Director of the Diocese of Baton Rouge in Louisiana. He is a presenter in four of Ascension's programs: Altaration, YOU: Life, Love, and the Theology of the Body, The 99, and Connected: Catholic Social Teaching for This Generation, as well as the author of Broken and Blessed: An Invitation to My Generation, Pocket Guide to Adoration, and co-author of Pocket Guide to Reconciliation.
---
---