As stay-at-home orders extend, we're relying more and more on screens. They're one thing that keeps everyone pacified, and it's especially tempting to keep kids entertained in exchange for a few hours of quiet.
There are definitely positive uses for screens, like education, communicating with friends and family, and spiritual devotions, but we have to be careful when it comes to mindless entertainment and spending time online.
Here are some ideas to keep a balance in your home and keep your family safe:
Pray – Pray the St. Michael prayer often. Keep the Rosary going in your home.
Keep to a schedule – Don't panic if it doesn't hold, but having some train tracks is a good thing.
Seek a balance of screentime – Find other ways to entertain yourself, and your kids will be likely to follow suit.
Have a list of alternate activities for children.
Filter your internet for porn and bad content.
Make rules about screens in bedrooms and in private spaces.
Don't let up. Be a force for positive interaction.
---
Meet Your Host, Colin MacIver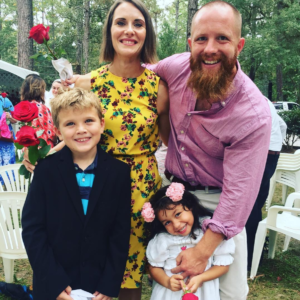 Colin is an enthusiastic transplant to vibrant Louisiana, where he lives with his beautiful wife Aimee and two energetic children, Leo and Zélie. His juggling act involves being a husband, a dad, a teacher, a youth minister, a musician and a national Ascension content creator and trainer.
In his spare time, he eats too many crawfish, savors king cake, plays one-on-one kickball with his son, and tries, for the life of him, to properly load the dishwasher.
Check out Colin's latest work with Ascension: Power and Grace: A Guide to the Catholic Sacraments and Quick Catholic Lessons with Fr. Mike.