When we unite our suffering to Christ and offer it all up to the Father the way Christ does, everything changes. Our joys, work, hearts, and sufferings can all be offered alongside Christ and given back to the Father. When we learn to offer it all up, we grow in holiness and experience healing. 
Snippet from the Show


Give every part of your life back to the Father the way Christ does, it changes everything. 
---
---
---
---
---
"I am now rejoicing in my sufferings for your sake, and in my flesh I am completing what is lacking in Christ's afflictions for the sake of his body, that is, the church."- Colossians 1:24
"It is no longer I who live, but it is Christ who lives in me. And the life I now live in the flesh I live by faith in the Son of God, who loved me and gave himself for me." – Galatians 2:20
Resources
The Catechist's Field Guide to Confirmation by Colin MacIver
As parishes plan for the fall, Ascension is pleased to offer our new and improved online bible study programs and sacramental preparation programs digitally to help you minister with flexibility. Go to ascensionpress.com to view all our offerings!
---
---
---
Meet Your Host: Colin MacIver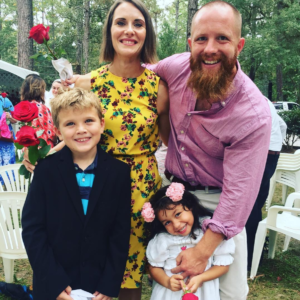 Colin is an enthusiastic transplant to vibrant Louisiana, where he lives with his beautiful wife Aimee and two energetic children, Leo and Zélie. His juggling act involves being a husband, a dad, a teacher, a youth minister, a musician and a national Ascension content creator and trainer.
In his spare time, he eats too many crawfish, savors king cake, plays one-on-one kickball with his son, and tries, for the life of him, to properly load the dishwasher.