Fr. Josh answers questions on name changes in the Bible, overcoming envy, and creating a daily prayer routine.
Snippet from the Show


"We don't want to focus too much on ourselves in prayer: prayer is about God, not about us."
---
Shownotes
Name Changes in Scripture
Hi Father Josh,
Why does Jesus change the name of people, like Simon becomes Peter. What purpose/reason/significance of people names being changed in scripture
– Maryalice
Overcoming Envy
Hi Father Josh,
How can one overcome envy? I know it's not good and I recognize when I'm envious, but I'm not sure what practical steps I can take to overcome this vice.
Thank you so much for your help in my spiritual growth! I'm praying for you.
Thank you,
Anonymous
Daily Prayer Routine
Hi Father Josh,
I really enjoy your podcast. I've really learned a lot from it and find it very useful and inspirational as I can incorporate it into my life and decisions. One thing that I am wondering about is building a practice of daily prayer.
I enjoy reading the Bible and journaling daily, both in the morning and at night. I find that I learn so much from reading His word and hear Him speaking to me there. Also, starting with the first of the year, I have also started meditation. This has been helpful to calm me down and silence the thoughts that are always running through my head.
However, I still feel like I'm missing the part of actually praying. I will do all of these things, but I don't know if I should be doing more, like actually sitting down and talking to God. This is difficult for me, as I'm a pretty quiet person and don't talk that much. I do pray the rosary sometimes, but hardly ever do my "own prayers".
I prefer to read or write and let God talk to me through those sources. Is that wrong or should I be doing more, like actual spoken word prayer? Do you have any advice for someone like me to continue growing in my relationship with God and approaching Him in prayer? Also, how does meditation (sitting in silence, focusing on my breath) play into my worship of God?
Thank you so much!
Anonymous
Resources
Meet Fr. Josh Johnson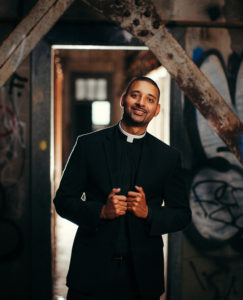 While Fr. Josh was raised Catholic, he didn't like the Church growing up. Then, one day in adoration, he fell in love with Jesus and received the call to become a priest.
Now, Fr. Josh is the Vocations Director of the Diocese of Baton Rouge in Louisiana. He is a presenter in four of Ascension's programs: Altaration, YOU: Life, Love, and the Theology of the Body, The 99, and Connected: Catholic Social Teaching for This Generation, as well as the author of Broken and Blessed: An Invitation to My Generation, Pocket Guide to Adoration, and co-author of Pocket Guide to Reconciliation.