As many of us are practicing social distancing, we're confronted by the things right in front of us. For me this brings to mind this line from The Little Prince, "It is only with the heart that one can see rightly. What is essential is invisible to the eye."
This line shows us that while we're preoccupied with statistics and never-ending news cycles, what's most important is what's right in front of us: Our communities, our families, and our God.
Snippet from the Show
"It's hard to make sense of everything that is happening, and yet we believe that the God who made the stars made each and every one of us individually."
---
Meet Your Host, Colin MacIver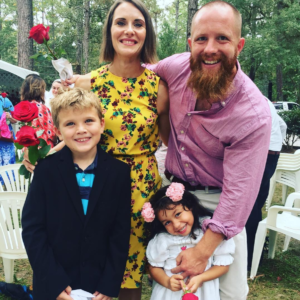 Colin is an enthusiastic transplant to vibrant Louisiana, where he lives with his beautiful wife Aimee and two energetic children, Leo and Zélie. His juggling act involves being a husband, a dad, a teacher, a youth minister, a musician and a national Ascension content creator and trainer.
In his spare time, he eats too many crawfish, savors king cake, plays one-on-one kickball with his son, and tries, for the life of him, to properly load the dishwasher.
Check out Colin's latest work with Ascension: Power and Grace: A Guide to the Catholic Sacraments and Quick Catholic Lessons with Fr. Mike.