My daughter got married last weekend, and despite all the planning that goes into weddings, we survived! In fact, I enjoyed it! I am so grateful to God for the gift of this blessed event and all that we enjoyed in the process of planning and hosting. When I shared photos on Facebook and Instagram, many people asked me to do a podcast about how to plan a wedding … so here you go!
Snippet from the Show
"As you plan a wedding, it's important to lean on Mary … She is such an understanding, consoling, compassionate mother. In those moments when we're tempted to stress about things we know we shouldn't, she's very helpful in calming our stressed out souls."
SHOWNOTES
Here are my un-professional thoughts from a mother-of-the-bride:
1) There are no "have-to's"
So many times, the pressure we feel to do things a "certain way" or to meet other people's expectations is completely unnecessary. I encourage you to examine what things you feel pressured to do and consider letting go of things that are not meaningful or that you cannot reasonably afford. There are no "have-to's" when you plan a wedding.
2) Focus on the sacrament
Of course there are some "have to's" about a Catholic ceremony, and I encourage you to focus on the beautiful gift of grace the couple is receiving in the sacrament of Holy Matrimony. Focusing there has a way of keeping all the other stuff in perspective.
3) Talk to Mama Mary
Our Lady demonstrated a special kind of loving care about weddings and the stress they can entail through her words and actions at the wedding at Cana. Focus on the role she played in that story and then entrust her with all of your own wedding-related anxieties. Ask Mother Mary to intercede for you with regard to all the details you might be stressing about, but also ask her to help you maintain proper perspective about stuff that does not matter.
4) Invite helpers
From the decorations to the favors to the cake to the music, there are lots of ways others can pitch in and help you plan a wedding without breaking the budget or freaking out with the stress of the whole thing. Ask others to help! Many of your friends and family will be honored to play a role in making your day special while taking some of the financial and emotional stress off of you.
5) Feel all the feelings
Weddings are emotional events! As you are planning your special day or your child's special day, or participating in a friend or sibling's special day, you will have some bittersweet feelings. Don't hide from them! Don't deny them! Allow yourself to feel them and share them with others in appropriate ways. Doing so as you plan will help you emotionally prepare for the big event and allow you to enjoy the moment of the special day even more.
This week, I also share feedback from listener Teresa who shares some inspiring and encouraging ideas for ways to make good habits stick. Her excellent feedback is like a mini podcast within a podcast and you will not want to miss what she shares!
RESOURCES
You Are Enough: What Women of the Bible Teach You About Your Mission and Worth, is available for order! Use the code, GIRLFRIENDS to receive ten percent off your order.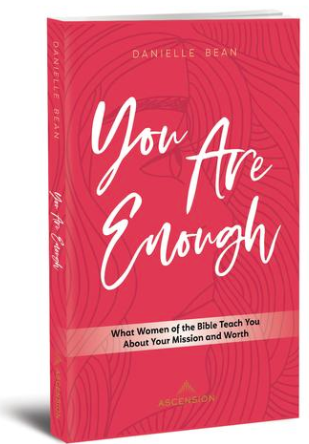 EVENTS
June 18-21:Catholic Media Conference in St. Petersburg, FL
Saturday, June 29, 2019: Scioto Catholic Family Conference in Portsmouth, OH
July 30-August 2: Catholic Marketing Network in Lancaster, PA
Saturday, November 16, 2019:You Are Enough Retreat at Holy Family Catholic Church in Orlando, FL
Saturday, March 7, 2020:You're Worth It Retreat at Precious Blood Parish in Jasper, IN
Want me come to your community to speak or give my retreat, You Are Enough, based on the themes in my newest book? Get all the information here!
SUBSCRIBE
ABOUT
CONTACT