Colossians 1:24 indicates that Jesus left some things undone, not in himself, but in each of us. St. Paul says, ""I am now rejoicing in my sufferings for your sake, and in my flesh I am completing what is lacking in Christ's afflictions for the sake of his body, that is, the church."
Another way of saying it is that God invites us to participate in the salvific action of Jesus through our own suffering. Jesus forever transformed the meaning of suffering through his passion. No longer is suffering meaningless pain, but it can be offered up and joined to the work of Christ to intercede for the good of others. This is why we can rejoice in our sufferings.
As we enter into yet another week of quarantine and separation, we can unite our suffering to the cross of Christ. Check out my talk with Fr. Mike on Baptism and Belonging to the Family of God.
---
Meet Your Host, Colin MacIver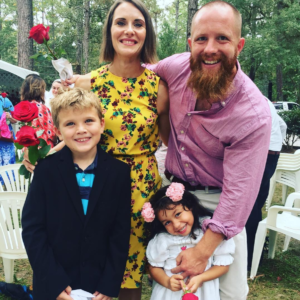 Colin is an enthusiastic transplant to vibrant Louisiana, where he lives with his beautiful wife Aimee and two energetic children, Leo and Zélie. His juggling act involves being a husband, a dad, a teacher, a youth minister, a musician and a national Ascension content creator and trainer.
In his spare time, he eats too many crawfish, savors king cake, plays one-on-one kickball with his son, and tries, for the life of him, to properly load the dishwasher.
Check out Colin's latest work with Ascension: Power and Grace: A Guide to the Catholic Sacraments and Quick Catholic Lessons with Fr. Mike.