Fr. Josh answers questions about what happens to our guardian angels after we die, whether it's OK to listen to explicit lyrics if you only pay attention to the music, and how to respond to someone who says all you have to do is love Jesus to get to heaven.
Snippet from the Show
"We cannot name our guardian angels because we're implying that we have authority over them, and we don't."
---
SHOWNOTES

Glory Story (2:55)

Listener Feedback (7:41)

Guardian Angels (10:18)

Good evening! I listened to your podcast for the first time yesterday. I was intrigued and learned much. On today, this feast of the guardian angels, this question came to mind: What happens to our GA when we die? What if we go to hell? Is there any biblical reference to what happens? I teach 7th grade theology so I could use your insight to help them as well….oh another question….should we name our GA? Can we pray for God to tell us their name? I have talked with various priests and received differing opinions. What is yours?
– Patti

Explicit Lyrics (14:59)
Hey Father Josh,
Hope this finds you well – loved your podcast and your book Broken & Blessed. My question's about rap. I'm 19 and have been listening to a lot of rap since I was 11 but recently I've become concerned about what exactly I'm exposing myself to. I don't want to paint a broad stroke and say it's all bad (after all, you rap about Jesus, how could that be bad?) but some of the music on my playlist is nothing more than talk of drugs/sex/money. I don't pay much attention to the lyrics and like it more for the beats, but it's gotta be affecting me in some way listening to all that, ya know? I consider my faith very important to me, and I feel it's a bit hypocritical for me to, for example, read about the Virgin Mary and then 10 seconds later start listening to music talking about women as if they're simply objects to be used for pleasure. Hoping you can provide some advice.
– Anonymous

Christian Denominations (22:35)
Hey father Josh,
I recently had a chance to tell my protestant friends about the beliefs of the Catholic faith and one of my friends told me "well we really won't know if any of this is true until heaven and when we get there we'll be smacked with the knowledge of what actually happens so as long as we love Jesus we're good" and I didn't really know what to say in that situation because I didn't want to offend her because she is a good friend and she had previously said that she didn't think that people should get mad at each other because they have different religions, and I had agreed with her so I didn't want to be a hypocrite. So I stayed silent for a little while and then the subject was changed. What could I have said in that situation? Thank you so much.
– Megan
Resources
---
Meet Your Host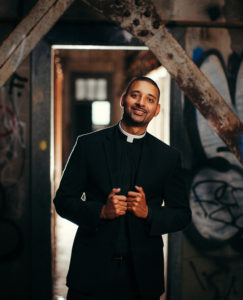 While Fr. Josh was raised Catholic, he didn't like the Church growing up. Then, one day in adoration, he fell in love with Jesus and received the call to become a priest.
Now, Fr. Josh is the pastor for Our Lady of the Holy Rosary Catholic Church in Louisiana, and he is a presenter in three of Ascension's programs: Altaration, YOU: Life, Love, and the Theology of the Body, and The 99 as well as the author of Broken and Blessed: An Invitation to My Generation.