Fr.Josh answers questions on the sin of gossip, and how we will be judged by God based on how we used our time, talent, and treasure here on earth. 
Snippet from the Show


Our time, talents, and treasure do not belong to us, they are gifts from God. He gives them to us with the expectation that we will share them generously with other people.
---
Shownotes
Glory Story (2:30)
Feedback (10:28)
Gossiping vs. Venting (11:17)
Hi Fr Josh,
Catherine from Ireland here, I'd like to start by thanking you and your team for your great fidelity to God and His will, for your 'yes' to His plan for you. Listening to your podcast has been a great source of encouragement to me in my 'walk toward eternity'!
The question I would like to ask relates to Gossip: what's the difference between gossiping and venting? What's the difference between discussing events in your friends' lives and gossiping (or are they the same thing?), and finally, if I find myself in a situation where I am with a group of people who are gossiping, do you have any suggestions as to how to stop the gossip in that moment?
Any help you could give me would be much appreciated. I will continue to keep you and your team in my prayers,
-Catherine
Being Judged on our Time, Talents, and Treasure (23:37)
Father Josh,
I've heard one of the things that we are judged on is how we spend our time, talent and treasures when it comes to living in this world while serving the Lord. Not sure I'm saying this correctly but hopefully you can help. Trying to become a better Catholic and could use some guidance on this subject.
Thanks,
-Jonathan
Resources:
---
Meet Fr. Josh Johnson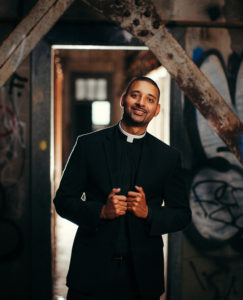 While Fr. Josh was raised Catholic, he didn't like the Church growing up. Then, one day in adoration, he fell in love with Jesus and received the call to become a priest.
Now, Fr. Josh is the Vocations Director of the Diocese of Baton Rouge in Louisiana. He is a presenter in four of Ascension's programs: Altaration, YOU: Life, Love, and the Theology of the Body, The 99, and Connected: Catholic Social Teaching for This Generation, as well as the author of Broken and Blessed: An Invitation to My Generation, Pocket Guide to Adoration, and co-author of Pocket Guide to Reconciliation.