This week's show was recorded live on Facebook with listeners interacting with me live as I recorded. This was a fun way to do the show and I hope you enjoy listening to it, even after the fact. We talked about the topic of sharing your faith with non-believing family and friends.
How can we avoid conflict and share authentically in a way that might inspire others to explore the Faith themselves? Here are some ideas I shared:
1) Show, don't tell.
As much as you can, lead others to the Faith through your example of joyfully living it out, rather than trying to teach them or lecture them about it.
2) Pray!
Pray for the grace to know how to share your faith. Pray for the people you hope to convert, and pray for the opportunity to share your faith with others.
3) Remember it's God's job.
It's not about you! You can cooperate with God's grace, but only God can convert people's hearts.
4) Invite them to something.
Invite people to your church, to a parish event, or just into your home. Invite them in to see your life and be a part of it.
5) Ask them questions.
Ask others questions about what they believe and why they believe it, and then listen to their answers. You can find out a lot about them while letting them know you care about their perspective.
RESOURCES
You Are Enough: What Women of the Bible Teach You About Your Mission and Worth, is available for order! Use the code, GIRLFRIENDS to receive ten percent off your order.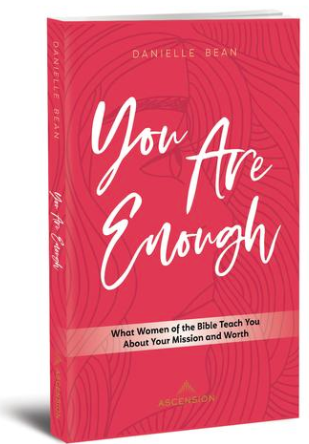 EVENTS
June 18-21:Catholic Media Conference in St. Petersburg, FL
Saturday, June 29, 2019: Scioto Catholic Family Conference in Portsmouth, OH
July 30-August 2: Catholic Marketing Network in Lancaster, PA
Saturday, November 16, 2019:You Are Enough Retreat at Holy Family Catholic Church in Orlando, FL
Saturday, January 11, 2020: You're Worth It Retreat, St. Michael Church, Exeter, NH
Saturday, March 7, 2020:You're Worth It Retreat at Precious Blood Parish in Jasper, IN
Saturday, March 28, 2020: Women's Conference in Norwich, CT
Want me come to your community to speak or give my retreat, You Are Enough, based on the themes in my newest book? Get all the information here!
SUBSCRIBE
ABOUT
CONTACT