What does the Catholic Church say in regards to immigration? The answer is in the Catechism. Click on the player above to listen to this episode.
"The more prosperous nations are obliged, to the extent they are able, to welcome the foreigner in search of the security and the means of livelihood which he cannot find in his country of origin. Public authorities should see to it that the natural right is respected that places a guest under the protection of those who receive him."

CCC 2241
This policy is neither Republican nor Democrat because the Church isn't aligned to a political party. It's aligned to the moral principles of the gospel.
See also: Fr. Mike on "The Church and Immigration"
---
Meet Your Host, Colin MacIver: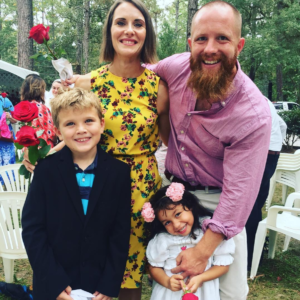 Colin is an enthusiastic transplant to vibrant Louisiana, where he lives with his beautiful wife Aimee and two energetic children, Leo and Zélie. His juggling act involves being a husband, a dad, a teacher, a youth minister, a musician and a national Ascension content creator and trainer.
In his spare time, he eats too many crawfish, savors king cake, plays one-on-one kickball with his son, and tries, for the life of him, to properly load the dishwasher.
Check out Colin's latest work with Ascension: Power and Grace: A Guide to the Catholic Sacraments and Quick Catholic Lessons with Fr. Mike.