This week in a Christmas special, Father Josh encourages us to pray with the Scriptures read during the Christmas Masses. As we listen to the genealogy of Jesus on Christmas Eve, he reminds us that Jesus came from a family of sinners and that Christ came to save all, no matter how great or how little the sinner.
Snippet from the Show


"Each and every one of us has a past and we shouldn't let our past mistakes dictate our future, our destiny, our calling to become saints in our walk towards eternity… God is bigger than our mess."
Meet Fr. Josh Johnson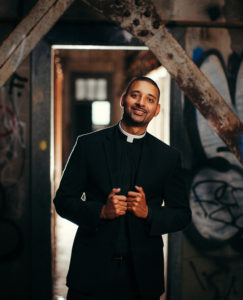 While Fr. Josh was raised Catholic, he didn't like the Church growing up. Then, one day in adoration, he fell in love with Jesus and received the call to become a priest.
Now, Fr. Josh is the Vocations Director of the Diocese of Baton Rouge in Louisiana. He is a presenter in four of Ascension's programs: Altaration, YOU: Life, Love, and the Theology of the Body, The 99, and Connected: Catholic Social Teaching for This Generation, as well as the author of Broken and Blessed: An Invitation to My Generation, Pocket Guide to Adoration, and co-author of Pocket Guide to Reconciliation.