Colin has two non-negotiables when it comes to morning prayers:
Some kind of interior prayer.
Some kind of family prayer.
The interior prayer helps him immediately start the day with God in mind. The family prayer helps him orient the family mission towards God.
Though the MacIvers attempt to say a decade of the Rosary every morning, they sometimes need something a little shorter for those days when nothing goes right.
Check out Colin's prayers below, and tell us about your morning prayers in the comments!
Snippet from the Show
"If you can start off the day with interior prayer, it's more likely that your inner monologue will turn into an inner dialogue."
Interior Prayer
Here I am Lord, I come to do your will. My intellect is dark and my will may be weak, but it's you oh God I'm after, your face oh Lord I seek.
Family Prayers
Jesus I love you, Mary I love you. Help us to be more like you.
Little Flower, Little Flower, show your power in this hour.
We adore you oh Christ and we praise you, because by your holy cross, you have redeemed the world. (for Lent)
---
Meet Your Host, Colin MacIver: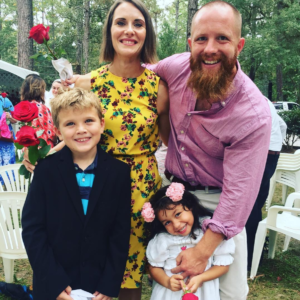 Colin is an enthusiastic transplant to vibrant Louisiana, where he lives with his beautiful wife Aimee and two energetic children, Leo and Zélie. His juggling act involves being a husband, a dad, a teacher, a youth minister, a musician and a national Ascension content creator and trainer.
In his spare time, he eats too many crawfish, savors king cake, plays one-on-one kickball with his son, and tries, for the life of him, to properly load the dishwasher.
Check out Colin's latest work with Ascension: Power and Grace: A Guide to the Catholic Sacraments and Quick Catholic Lessons with Fr. Mike.