Fr. Josh goes in depth on two questions: What principles should Catholics turn to when it comes to voting for a political candidate? And is celebrating Halloween morally acceptable?
Email your questions, comments, or feedback to askfrjosh@ascensionpress.com
Snippet from the Show
"Why would any follower of Jesus Christ vote for a candidate whose policies are diametrically and directly opposed to the core beliefs we hold sacred as Catholics?"
---
SHOWNOTES

Glory Story (2:08)

Listener Feedback (4:20)

Celebrating Halloween (9:49)
Hi Father Josh!!
First off, thank God for your existence, I appreciate you! I've been listening to you since July when a brother named Erik at a conference for men, called Triumph, told me about you (he's probably listening to this shout out to him). Your content is very informative and it feeds my spirit. My question is, Is Halloween bad to celebrate? I've heard things from yes, because you're celebrating the devil to yes because satanic people do things on Halloween. But I wanted to hear from a Father, what's your opinion on it?
– Erik

Catholic Voting (15:52)
Hi Father Josh,
I really enjoy your podcast and love your random singing bits! Shout out to Charles my bf as he loves you too. In Canada we just recently had our 2019 election, and I just want to know your thoughts on the election and, if anything, what does the Church teach on how to vote the "Catholic" way?
– Michelle
Resources
Text "askfrjosh" to 33-777 to get the weekly shownotes in your inbox
---
Meet Your Host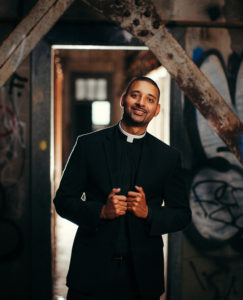 While Fr. Josh was raised Catholic, he didn't like the Church growing up. Then, one day in adoration, he fell in love with Jesus and received the call to become a priest.
Now, Fr. Josh is the pastor for Our Lady of the Holy Rosary Catholic Church in Louisiana, and he is a presenter in three of Ascension's programs: Altaration, YOU: Life, Love, and the Theology of the Body, and The 99 as well as the author of Broken and Blessed: An Invitation to My Generation.