Entertainment culture has a pretty bad reputation in Christian communities, but is there a way for us to find God when we go to the movies?

Even though there is a lot of brokenness in entertainment culture, we can't help but point to something greater when we encounter a good story.
We tell stories over and over again about redemption, love, sacrifice, and hope. These all point back to the gospel story.

Why does this matter?
Because we can use it to start conversations about faith.

Watch the next Marvel movie you see with the gospel in mind and discover how it address values like the dignity of the human person, or the role of self-sacrifice in love. Talk about those themes with your family and friends, and bring them back to the root of those values – God.
Looking for more great ideas on evangelization?
Check out Every Knee Shall Bow, a new podcast for Catholics looking to share the good news.
Meet Your Host, Colin MacIver: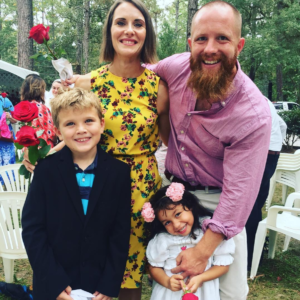 Colin is an enthusiastic transplant to vibrant Louisiana, where he lives with his beautiful wife Aimee and two energetic children, Leo and Zélie. His juggling act involves being a husband, a dad, a teacher, a youth minister, a musician and a national Ascension content creator and trainer.
In his spare time, he eats too many crawfish, savors king cake, plays one-on-one kickball with his son, and tries, for the life of him, to properly load the dishwasher.
Check out Colin's latest work with Ascension: Power and Grace: A Guide to the Catholic Sacraments and Quick Catholic Lessons with Fr. Mike.