Fr. Josh and Kevin McCall answer questions about prayer, asking God for signs, and how to have a relationship with the Holy Spirit.
If you have a question, comment, or response for Fr. Josh, email us at askfrjosh@ascensionpress.com. You may hear your question or comment in an upcoming podcast episode!
Snippet from the Show
"When you pray with someone, it's not about the level of revelation that you have, it's about when you finish, does that person feel like they've been kissed by Jesus."
SHOWNOTES
(Click on the player above to hear Fr. Josh's answers.)
Glory Story (1:39)
Listener Feedback (4:08)
Kevin's Story (7:22)
Praying for a Sign (26:44)
Hi Father Josh, I really love your Podcast. Thanks so much for helping me grow in my faith. I was raised in a Christian home but never attended Catholic school. I became Catholic as an adult. I still feel like I have so much to learn. ( I just graduated from a medical residency, so I struggle with finding time and constantly working on balance) I was wondering when you pray is it ok to ask for a sign from God? Or like say "Lord show me this sign, so I know this is what your leading me to do?" Is it wrong to pray for a sign? I never really have done this before but I have been so busy. I just said it in a prayer real quick.

I met this really cool guy on a plane and felt an instant connection to him. We kept in contact just as friends because we both been in the Navy. Later I found out he was raised Catholic. I felt like it was a sign from God that he might be the spouse I have been praying for. I kind of brushed it off and just focused on my life/residency saying God if it is really you please let him win this really hard fitness award out of like 45 people. I didn't tell him what I prayed for and like one day he just texts me a picture his award. He has a girlfriend now and I am nervous and I want to tell him how I feel now before he is married….or forever hold my peace" I know that he can always say "No". I guess I am just trying to understand are these signs from God? I honestly am a pretty scientific and logical person so I really don't know what to make of it and to understand better Catholic teaching.
-Bridget
Building a Relationship with the Holy Spirit (32:51)
How do you "have a relationship" with the Holy Spirit? He seems like an idea.. not a person. I've been told to have faith and ask Him to come, but I'm sort of weary of doing that anymore because when I put my faith or expectation in God to show up to the other side of my prayer, I get let down. If I keep doing that, I'm scared I will lose my faith all together.
-Kathryn
Resources

---
Meet Your Host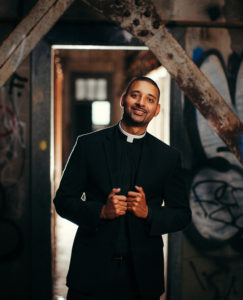 While Fr. Josh was raised Catholic, he didn't like the Church growing up. Then, one day in adoration, he fell in love with Jesus and received the call to become a priest.
Now, Fr. Josh is the pastor for Our Lady of the Holy Rosary Catholic Church in Louisiana, and he is a presenter in three of Ascension's programs: Altaration, YOU: Life, Love, and the Theology of the Body, and The 99 as well as the author of Broken and Blessed: An Invitation to My Generation.