Fr. Josh is joined by Brandi Kilbert to discuss all things women's health- natural family planning, contraception, abortion, and in vitro fertilization. Brandi Kilbert is a nurse, creighton fertility care specialist, wife, mom and the Director of Marriage and Family life at Fr. Josh's parish, Our Lady of the Holy Rosary.
Snippet from the Show


"Every person has a fundamental right to life that we must honor and reverence."
---
Shownotes
Questions
Natural Family Planning
Hello, Fr. Josh!
I've been listening to you for half a year now and I am so thankful for your openness to accept even the most difficult of questions. That's why I'm reaching out with some support. I am getting married in a few months. With COVID precautions, pre cana has been cancelled.
My fiance and I are not rescheduling our wedding. Although we'd love each and every family and friend to attend the wedding safely, we recognize marriage as a sacrament where only a few are necessary to be present: bride, groom, Jesus, priest, two witnesses.
With that being said, I am GREATLY struggling with NFP. I have reached out to a woman of Christ who was my PSR teacher, HS biology teacher, neighbor, and now friend who has practiced the Creighton method for over 20 years. She praises the church and is a devout Catholic I pray to to resemble, but we both see that the church lacks support with NFP. Catholic families are told to practice it, but we aren't given the tools and education. I have struggled just finding a educator and books!
Why is this the route the church has gone? (I feel crazy in this journey!)
What support and resources are there besides support groups via Facebook?
I'm trying to see patterns and make NFP habits now prior to marriage, but this has been difficult.
Praying!
Mandy
Infertility
Do infertility intervention treatments such as IVF interfere with god's will? Based on the understanding that our bodies belong to god, does he want us to donate our organs to others when we pass?
– Laura
Abortion
Hi Father Josh,
Can a person be a faithful/practicing Catholic and still believe that the government should not be able to take away a women's choice to have an abortion?(be Pro-Choice)I have been praying and thinking about this a lot, and asking for Our Lady of Guadalupe's intercession, but I thought I would get your take as well. It seems to me that those who do believe that you can be both Catholic and Pro-Choice, believe that abortion is wrong, but don't believe that the government gets to make that decision. How do we (and the government) protect the most vulnerable lives, but still honor the rights of the mother? Thank you so much for your ministry and priesthood!
– Lexxus
---
Meet Fr. Josh Johnson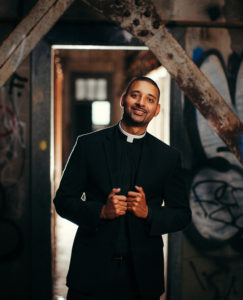 While Fr. Josh was raised Catholic, he didn't like the Church growing up. Then, one day in adoration, he fell in love with Jesus and received the call to become a priest.
Now, Fr. Josh is the Vocations Director of the Diocese of Baton Rouge in Louisiana. He is a presenter in four of Ascension's programs: Altaration, YOU: Life, Love, and the Theology of the Body, The 99, and Connected: Catholic Social Teaching for This Generation, as well as the author of Broken and Blessed: An Invitation to My Generation, Pocket Guide to Adoration, and co-author of Pocket Guide to Reconciliation.