Avera Maria Santo and Fr. Josh answer questions about choosing a vocation when experiencing gender dysphoria and how to respond to a family member in a same-sex relationship. Avera also shares her story about same-sex attraction and finding her identity as a beloved daughter of God.
If you have a question, comment, or response for Fr. Josh, email us at askfrjosh@ascensionpress.com. You may hear your question or comment in an upcoming podcast episode!

Snippet from the Show
"Because I am so weak, because of the amount of suffering I have gone through, it has drawn me closer to Christ crucified. And if I stay near that Cross, there is the promise of the Resurrection."
SHOWNOTES
Listen to this episode in the player at the top of the page.
Glory Story (1:52)
Avera Maria Santo shares her story about same-sex attraction and finding her identity as a beloved daughter of God.
Gender Dysphoria and the Desire for Marriage (25:43)
Dear Father Josh, First of all, I would like to say that this is my favorite podcast of all time! I look forward to every episode and hearing what answers the Church has to the questions of her faithful. Thank you so much for all the time and effort you put into delivering those answers to us and praying for us. Here is my question: From a young age I've been struggling with gender dysphoria and have been faced with the way it tempts you to resist God's will for your life. I am now seventeen and by God's grace I have received healing such that it no longer controls my life and I am completely submitted to the teachings of the Church on the topic. However, it is still something I struggle with and I don't know what the future holds. I do have a desire for marriage (as God intends it), but don't know if this would be a problem for me. Should people who do or have dealt with gender dysphoria be allowed to marry? Would it affect my ability to be a good mother and wife? Should I rule out the vocation of marriage as an option for me, or do you think it would be worthwhile to pursue and a cross worth carrying? Thanks so much, and God bless!
–Anonymous

Children in a Same Sex Relationship (32:15)
Father Josh, My daughter recently told me that she is in a relationship with another woman. I told her that I love her, that I believe that it's wrong and that she is welcomed in my home. But, this is becoming problematic because I have grandchildren, I don't feel comfortable talking or knowing about her relationship and in my heart I know this isn't right. I don't know what to do, except pray. I will always love my daughter, but it feels like my family is falling apart. Do I just let go? Do I keep putting up boundaries? I'm afraid of losing my daughter completely. I also don't want to do or say anything that would be unchristian like. One last thing, some family members, Protestants, have reached out to her and told her they were supportive of her truth. I don't understand how any Christian would not be loving enough to tell her that this is not right.
–Heartbroken
Resources
Want to browse the previous resources Fr. Josh has recommended in his show? Click here to select an episode and view the shownotes.

---
Meet Your Host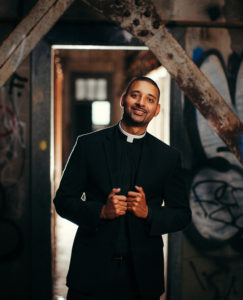 While Fr. Josh was raised Catholic, he didn't like the Church growing up. Then, one day in adoration, he fell in love with Jesus and received the call to become a priest.
Now, Fr. Josh is the pastor for Our Lady of the Holy Rosary Catholic Church in Louisiana, and he is a presenter in three of Ascension's programs: Altaration, YOU: Life, Love, and the Theology of the Body, and The 99 as well as the author of Broken and Blessed: An Invitation to My Generation.