Father Josh answers questions about how to find healing in the midst of anxiety or depression,  how to get involved in your parish, and whether or not Catholics can be masons. 

Snippet from the Show
If a Catholic man joins the freemasons, he automatically excommunicates himself from the Catholic Church. 

SHOWNOTES

Glory Story (2:13)
Listener Feedback (6:30)
Anxiety, Depression, and Mental Illness (11:17)
Hi Fr Josh, 
My boyfriend introduced me to your podcast a few months ago, and absolutely love it. I think it is important to constantly learn more about the Church that Jesus Christ created. Your answers to people's questions and the way you tell stories is truly a gift from God.
I recently graduated from college and am in a period of transition in my life before I start graduate school. The transition has been more difficult than I expected and I am now suffering from anxiety. I also already visit a counselor with Catholic Charities. I know the Lord's grace is sufficient and he will deliver me, however, I am still struggling to control my overwhelming feelings of doubt and worry. What is your spiritual advice for someone in my situation suffering from anxiety, depression, or a mental illness? Whose intercessions should they ask for? Are there prayers already written for this? Thank you for all you do.
– Sloan

Getting Involved in Your Parish (19:05)
Dear Fr. Josh,
You probably don't remember me, but I will never forget you. I consider this my own little glory story. I was a member of St. Aloysius parish in Baton Rouge, LA. I was also a student at LSU and a student at Louisiana Culinary Institute, but before I became a student at the culinary school I moved back to my hometown for a semester during a really rough period of my life. During that period I left the Church and lost all hope and faith, not necessarily in Christ, but I just lost hope that he could love someone like me. Eventually I made my way back to Baton Rouge and had a little house on Stone Street. I still thank God every day for finding us a house on the same street as the church. I would often walk to Mass with my sister, not really wanting to attend and feeling guilty most of the time. One day after Mass during the final prayer, you stopped and said the following, "I don't know who needs to hear this, but I feel God urging me to stop and share this message with someone in here tonight." Then you continued to say, "You are so loved, and whatever you're going through will pass. You are so loved by our Father." I wept the entire night. It changed my life. My heart has been set on fire for Jesus ever since, and I truly perceive that to be Jesus working through you. Now, onto my question: I live in my hometown again, and as I said, my heart has been lit on fire for Jesus ever since that night. I have helped to bring so many of my friends to adoration and Mass. I love my parish, but I find myself hesitant to get more involved. I feel like I have a lot of great skills that I can use to better my parish and other young people who have fallen away from the Church. I wanna be an instrument for Jesus but I don't know where to start. Should I ask someone in the parish office where they need help or my parish priest? Should I plan a meeting or just start volunteering in random ways? There are so many options, I would really love some guidance.
With love – Avery
Can Catholics Be Masons? (25:47)
Hello Fr. Josh,
Just recently found your show. I am loving how real and open you are about answering questions, even hard ones. I also enjoy your bursts of song. There's a song for every occasion, don't you think? As many of your listeners, I am a cradle Catholic. The organization of Masonry and its sister organization has recently been brought to my attention. My neighbors whom I respect and know to be faithful Christians, if not Catholic, are members. They are the most giving, warm, welcoming people. Always busy with various events, and community programs. I began wondering what their organization is all about. If I look it up online, there are many websites that for good or bad talk about this "secret" organization. It sorta looks like it was started maybe by Catholic Scotts… But the Church is against it…. I think… There are conspiracy theories, and occult theories… Curiosity makes me want to know more. But I am wary after all the stuff online. Making more connections with my community is something I am seeking. I am involved in my church community, but that only serves a portion of the community as a whole. I'd like to meet more and interact with more individuals in the community. What is the Church's stance today on this organization, and why?
– Catherine

Resources
Text "askfrjosh" to 33-777 to receive weekly emails for Fr. Josh's podcast
Sirach 38: Concerning Physicians and Health
---
Meet Your Host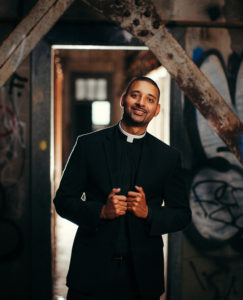 While Fr. Josh was raised Catholic, he didn't like the Church growing up. Then, one day in adoration, he fell in love with Jesus and received the call to become a priest.
Now, Fr. Josh is the pastor for Our Lady of the Holy Rosary Catholic Church in Louisiana, and he is a presenter in three of Ascension's programs: Altaration, YOU: Life, Love, and the Theology of the Body, and The 99 as well as the author of Broken and Blessed: An Invitation to My Generation.