Colin talks about a time he had an encounter with Christ while listening to beautiful music that brought him to tears.

As he was irresistibly drawn in, he realized that art, music, culture, and beauty can be opportunities for evangelization.

Colin calls this invitation to have an encounter with Christ through beauty an "assault of beauty". It's not an assault that takes away from our free will, but one that draws us in.

This week, find a way to extend this invitation to someone else. Listen to some beautiful music with your family or ask a friend to go visit a beautiful church.
For more ways to share the Catholic faith, check out Ascension's new podcast, Every Knee Shall Bow.
---
Snippet from the Show
We're preparing for the season where Christ gives us the raw and powerful beauty of the gospel in a manger in Bethlehem.
---
Meet Your Host, Colin MacIver: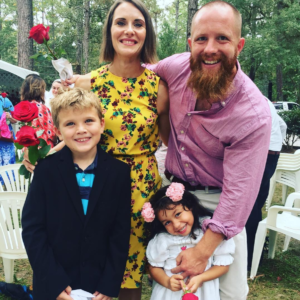 Colin is an enthusiastic transplant to vibrant Louisiana, where he lives with his beautiful wife Aimee and two energetic children, Leo and Zélie. His juggling act involves being a husband, a dad, a teacher, a youth minister, a musician and a national Ascension content creator and trainer.
In his spare time, he eats too many crawfish, savors king cake, plays one-on-one kickball with his son, and tries, for the life of him, to properly load the dishwasher.
Check out Colin's latest work with Ascension: Power and Grace: A Guide to the Catholic Sacraments and Quick Catholic Lessons with Fr. Mike.