Father Josh answers questions about how to live Advent in a meaningful way, whether Catholics should listen to Christmas music during Advent, and what the "Christmas season" is according to the liturgical calendar.

Snippet from the Show
For the secular world, Christmas season begins on Black Friday and ends on Christmas day. For Catholics, Christmas season begins on Christmas day and continues until the Baptism of Christ the Lord in mid-January.
---
SHOWNOTES
Glory Story (1:56)

Feedback (4:20)

How to Have a Meaningful Advent (7:52)
Hey Fr Josh,

What practical advice can you give to have a more meaningful Advent and truly enter into the mystery of the Incarnation? I know the world has a different way of preparing for Christmas, but all that builds up to is simply good feelings and gifts that will probably go obsolete. Also, I'm the only actively practicing Catholic in my family, I want to ensure that my soul is ready to welcome the Baby Jesus and make Him the king of my life. I don't want to view the Nativity as a cute little story, but as the moment where the world's and my salvation was born. Thanks for your service to Mother Church.

– Chris

Christmas Music during Advent (11:32)
Greetings, Fr. Josh!

Thank you so much for dedicating yourself to this podcast as part of your ministry. Many times your words have convicted me to dive deeper into certain aspects or practices of our faith, and my relationship with Jesus has greatly benefited as a result. I appreciate the wide variety of topics that you address on the show, and I LOVE your glory stories. They encourage me to "keep on keeping on" and they remind me to continuously look for God's blessings in my everyday life. Know that I am praying for you and for all of your listeners as we journey in the faith together.

On to my question. I love Christmas music, and as a professional singer and a music teacher, I often start preparing Christmas – themed songs for holiday performances in September (both in my own practice and with my students). I also love listening to Christmas music, and have traditionally started listening to Christmas songs in November (or at the very least singing along with the radio stations that play Christmas tunes at work or in stores).

However, recently some Catholics I know (close friends of mine, as well as more well-known public figures) have advocated for not listening to or playing Christmas music much (if at all) before or during the Advent season. Instead, they suggest focusing more on traditional Advent-themed hymns such as "O Come O Come Emmanuel" and "O Come Divine Messiah." I definitely love incorporating these traditional hymns into my prayer and worship during Advent, but I struggle with the idea of completely ignoring Christmas music (especially sacred Christmas carols) right up until the Christmas liturgical season begins. This is particularly impractical for me given my current vocation as a musician and teacher. Do you have any thoughts on how Catholics should approach listening to Christmas music (both sacred and secular) before and during Advent?

Thank you so much, and may God continue to bless you in your ministry!

– Anna-Marie

Timing of the Christmas Season (19:35)
Dear Fr. Josh,

Thank you for creating such an inspiring and informative podcast. My husband and I really enjoy listening to it on long car drives, and discussing the topics further together.

My question for you is when does the Christmas season end? I know in the Church it officially begins on Christmas Day itself, but it's difficult for me to find a good answer on when it ends. Some say Epiphany (but I've heard for years that this isn't the case). Others say the Baptism of the Lord, but is that just up until then or the day of (since priests return to green vestments that day). Further, I've read that it goes through Candlemas on February 2nd, as the Alma Redemptoris Mater is used through then with its Christmas vesicle and prayer. Could you please enlighten me and other listeners as to which one is most correct?

Thank you and God Bless

– Hannah

Resources:
---
Meet Your Host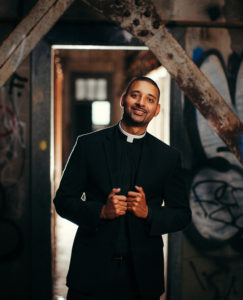 While Fr. Josh was raised Catholic, he didn't like the Church growing up. Then, one day in adoration, he fell in love with Jesus and received the call to become a priest.
Now, Fr. Josh is the pastor for Our Lady of the Holy Rosary Catholic Church in Louisiana, and he is a presenter in three of Ascension's programs: Altaration, YOU: Life, Love, and the Theology of the Body, and The 99 as well as the author of Broken and Blessed: An Invitation to My Generation.