Do you struggle with confidence? I think many of us feel alone in our anxieties and insecurities, but it's very common to lack confidence sometimes.
Whether you are starting a new work project, or building a friendship, or growing in your marriage or spiritual life, or setting health goals, many of us worry that we will fail and struggle to feel like we are in control of our circumstances.
Snippet from the Show
"We think people who are confident don't feel afraid. But that's not true. Confident people feel afraid, but they don't let it stop them."
SHOWNOTES
This week, I am sharing five things I think can help you feel more confident:

1) Be discerning about which opinions matter.
Some people you will never please, and some people do not share your values and so you wouldn't want to please them. Be discerning about which opinions and feedback you pay attention to, and don't waste time on opinions that don't matter.

2) Take responsibility for yourself.
You are in charge of you! Don't think of yourself as a victim of your circumstances or other people. Decide what you want to change and then get busy doing it.

3) Do not dwell in the past.
It's natural to think about past failures sometimes and feel paralyzed by them. But you are not your past. Your past is something you can learn from and move forward from. You need to make the choice to do that.

4) Watch your language.
Do you speak negatively, even just inside your own head? Pay attention to the ways you talk about yourself and about your goals and assess if they are positive or negative. Choose positive language over the negative language that leaves you spiraling downward and never reaching your goals.

5) Do not let fear stop you.
Confident people are not people who never feel afraid. Confident people are people who know how to put fear in its place. When you feel afraid, look at it as an opportunity to try something new and learn and grow. We sometimes grow fearful because we think our decisions are permanent and cannot be undone. Know that you can try something, fail, learn from it, and move on.
How do you grow your confidence? What struggles or triumphs do you have when it comes to feeling confident and achieving your goals? Send me your feedback and I will share it on a future show!
RESOURCES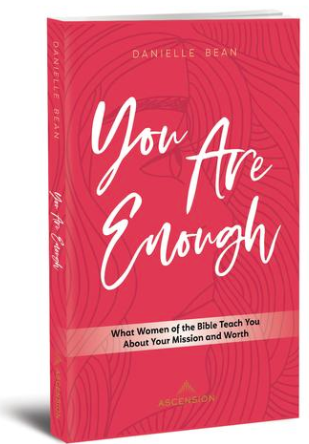 EVENTS
Saturday, November 16, 2019: You Are Enough Retreat at Holy Family Catholic Church in Orlando, FL
Saturday, January 11, 2020: You're Worth It Retreat, St. Michael Church, Exeter, NH
Saturday, March 7, 2020: You're Worth It Retreat at Precious Blood Parish in Jasper, IN
Saturday, March 28, 2020: Women's Conference in Norwich, CT
Want me come to your community to speak or give my retreat, You Are Enough, based on the themes in my newest book? Get all the information here!
SUBSCRIBE
CONTACT