That feeling when you have a tight deadline, or an unexpected task, or you forgot to do something and are frantically scrambling to get it done … I call that feeling "franxious". It's what Martha experienced when Jesus came to visit (I could see that being stressful) and it happens when you have so much anxiety over something that you're running around like crazy trying to pick up the slack and it feels TERRIBLE.*
Organizational skills aside, getting in the habit of prayer can help alleviate that feeling when you find yourself getting anxious.
Make your rest rooted in prayer. When you take a break, do it intentionally with the aim of giving true rest to the body and soul, which can only be found in God.
Practice the presence of God. Keep in mind that God is always with you throughout your day. It helps keep things in perspective.
Begin and end with God. Start a routine of morning prayer and prayer before bed so your day begins and ends with a conversation with God.
*Disclaimer: This episode refers to normal anxiety that is experienced periodically by everyone. If you experience frequent intense, excessive, and persistent worry or panic attacks, talk to your doctor.
---
Meet Your Host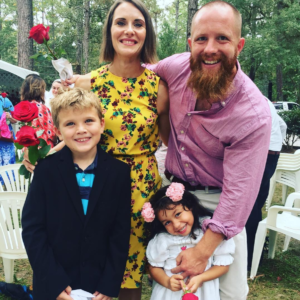 Colin is an enthusiastic transplant to vibrant Louisiana, where he lives with his beautiful wife Aimee and two energetic children, Leo and Zélie. His juggling act involves being a husband, a dad, a teacher, a youth minister, a musician and a national Ascension content creator and trainer.
In his spare time, he eats too many crawfish, savors king cake, plays one-on-one kickball with his son, and tries, for the life of him, to properly load the dishwasher.
Email Colin at thetightropepodcast@ascensionpress.com
Check out Colin's latest work with Ascension: Power and Grace: A Guide to the Catholic Sacraments and Quick Catholic Lessons with Fr. Mike.