August contains two special days to honor the Blessed Mother, the Assumption and the Queenship of Mary. At the end of Mary's earthly life, she was assumed into heaven and upon entering she became Queen of Heaven. By looking into the Scriptures, how can we deduce these things? Many non-Catholics strongly disagree with these declarations about Mary, because it isn't explicitly stated in the Bible, but these events are not hard to see if we observe how God has worked with His people here on earth.
Mary's Faithfulness
First, it would be hard to deny that Mary was the most faithful follower of Jesus. She was willing to be stoned or scorned or left destitute just by agreeing to conceive Jesus. Then she faithfully sacrificed her own life to raise Him in poverty, even at one point fleeing to Egypt to save her son's life. She faithfully observed the Laws of Moses and raised Jesus in faith. The list can go on and on, but the question to ask is, how did God reward other people for faithfulness?
Two men mentioned in the Bible were "assumed" into heaven for their faithfulness: Enoch (Hebrews 11:5: Genesis 5:21-24) and Elijah (2 Kings 2:9-13). God chose to bring them to heaven without experiencing death, so it is not unprecedented to be assumed into heaven. The gospels end before the death of any of the Apostles except for James, and so we rely on oral tradition to fill us in on what happened to them. The same goes for the Blessed Virgin Mary, who was the most faithful follower of Christ and certainly deserving to be taken to heaven as her reward. By understanding the ways of God, we can also understand the teachings of the Church.
The Blessed Mother as Queen
Second, it is completely undeniable that Mary is the mother of Jesus, the King of Kings, and therefore the queen mother. The position of the queen mother is well documented in the history of the kingdoms of Israel and Judah in 1 and 2 Kings. One familiar example is Bathsheba, wife of King David and mother of Solomon. When Solomon became king, Bathsheba played a role in his kingdom as an advocate (1 Kings 2:12-22). King Solomon also had a seat for her at his right side. Obviously, the mother of the king was honored and respected in the earthly kingdom.
When we look at the heavenly kingdom of Jesus, we see an obvious parallel. Once there were twelve tribes, now there are twelve Apostles, all of whom also reign with Christ on thrones (Matthew 19:28-30). Once there was a queen mother, now there is the Queen of Heaven. It only makes sense that Jesus would honor his blessed mother in his kingdom. So much of Jesus' teaching on earth was about the Kingdom of God, so we must realize that this kingdom was real and important to Him. Why would he create a kingdom and invite everyone to come and then look at his mother and say "you aren't any more special than all the others, so you can't be Queen." Nonsense! She is Queen of Heaven by the mere fact that she is the mother of Jesus, but beyond that, she is deserving and qualified for the position as well.
Ways to Honor Mary's Queenship
In honor of the Queenship of Mary, bring her your petitions believing she will intercede for you.
Pray a decade of the Rosary, the Coronation of Mary, when she is crowned Queen of Heaven.
Chose a picture of Mary in your home and set a bouquet of flowers before it to honor her.
---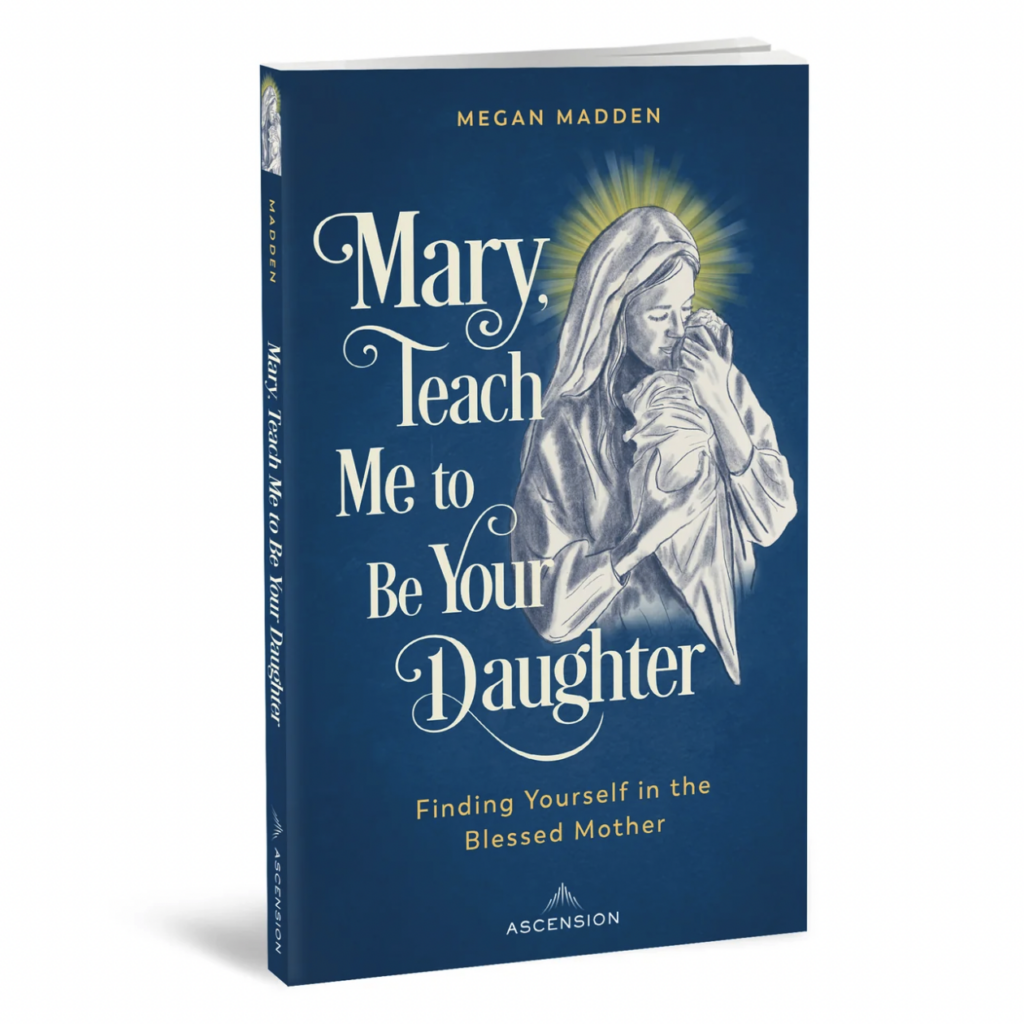 Journey into the Heart of Mary
Mary, Teach Me to Be Your Daughter leads Catholic women on an intimate journey into the life of Mary and reflects on the ten principal virtues that she possessed.
---
You May Also Like…