Fr. Mark-Mary and Sr. Mariae Agnus Dei talk about letting love write your story.
We all have a story. Each person is completely different from the next, and each has a story that is begging to be led by God. This story is made up of everything we are and everything we will become, and it calls us to the greater vocation of living a life aimed towards Christ. It may be hard to recognize this—especially in the midst of temptation and discouragement—but it's true for all of us, no matter our background, baggage, or knowledge of Christ. 
So, what does letting love write our story look like? It doesn't look that different at first, but over time works us into the greater plan of God, filled with enormous blessings. You can let love write your story by just saying "yes" to whatever God asks of you. You can let love write your story by being present to the people who he puts in your life. And you can let love write your story by loving God with all your heart, mind, and soul. 
Check out The Sisters of Life podcast, "Let Love".
And you haven't already heard—Father Mark-Mary's book "Habits for Holiness" is shipping soon. Check it out today!
Meet Fr. Mark-Mary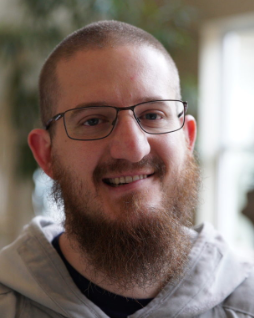 Father Mark-Mary was ordained as a Franciscan Friar of the Renewal (CFR) in 2018 and lives at a friary in the Bronx.
The mission of the CFRs is to wholeheartedly embrace Jesus through fidelity to the Church and her Sacraments. Paired with their commitment to prayer, contemplation, and study of Sacred Scripture, the CFRs serve those around them, especially the poor, in the footsteps of Christ.
Discover beautiful music from the CFRs and Fr. Mark-Mary's book Habits for Holiness: Small Steps for Spiritual Progress, both available from Ascension.