Bobby Angel talks about what to do when we don't meet our own expectations.
If you're beating yourself up about messing up your New Year's resolution, don't worry. We've all been there. Maybe you're tempted to just throw it all away and forget about it. But in today's video, Bobby explains why it's okay to mess up, and important to keep striving. 
If you think of whatever you're trying to achieve as a mountain you're climbing, you don't fall all the way to the bottom when you forget a day. Instead, you sink a little lower, but maintain a certain level of achievement in your goal. Instead of throwing yourself to the bottom of the mountain, why not look back up at your goal and trudge on?
G.K. Chesterton says that anything worth doing is worth doing badly. If this is a goal you are truly striving for, then it's naturally going to be difficult at times. What matters is not how often we fall but how we get back up and continue to strive towards the good. If it's worth doing, then it's worth taking those small steps forward.
Don't have a New Year's resolution yet? Listen to the whole Bible this year with Fr. Mike Schmitz!!
---
Meet Jackie and Bobby Angel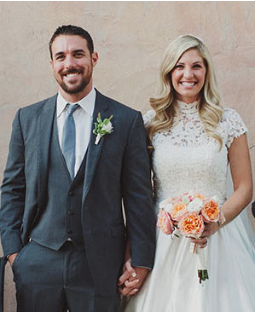 Jackie Francois Angel is a full-time worship leader and speaker. Bobby Angel is a campus minister and theology teacher at a Catholic high school. Married in 2013, they have four beautiful children and strive to grow in holiness each day!