Athlete or not, a "Leave it all on the field" approach to faith is a great way to live a life with no regrets. You've probably heard of FOMO (fear of missing out). Here Bobby Angel talks about another fear, FOMU, which is the fear of messing up. Let's be honest, we all have failed to leave it all on the field—ironically—in fear of failure. Or maybe we actually fear success. 
Whatever the case, Bobby says he has always benefited from doing his best in all aspects of life, and leaving nothing left in the tank. Trying to hold off, or hold back, only results in regrets. 
Maybe it's time to insert a little bit of risk in your life too. Maybe there's a creative idea or project, a girl you want to ask out, but you've been hesitating. Leave it all out on the field. 
With that said, this is not a call to be reckless. If it is really worth doing, do it. Take the creative risk and have faith in God. Playing it safe and leaving something left in the tank is no way to live a faithful life. 
"If men weighed the hazards of the sea, none would embark"

Sister Juana Ines de la Cruz 
"But now thus says the Lord,
he who created you, O Jacob,
    he who formed you, O Israel:
'Fear not, for I have redeemed you;
    I have called you by name, you are mine'"

Isaiah 43:1
"Have no anxiety about anything, but in everything by prayer and supplication with thanksgiving let your requests be made known to God. And the peace of God, which passes all understanding, will keep your hearts and your minds in Christ Jesus…. And my God will supply every need of yours according to his riches in glory in Christ Jesus"

Philippians 4:6-7, 19
"Therefore I tell you, do not be anxious about your life, what you shall eat or what you shall drink, nor about your body, what you shall put on. Is not life more than food, and the body more than clothing?"

Matthew 6:25
Do not be afraid of the unknown.
---
Meet Jackie and Bobby Angel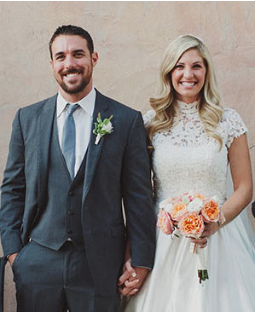 Jackie Francois Angel is a full-time worship leader and speaker. Bobby Angel is a campus minister and theology teacher at a Catholic high school. Married in 2013, they have three beautiful children and strive to grow in holiness each day!