Kim Zember and Jackie Angel talk about the difference between love and lust.
Drawing directly from the Catechism (CCC 2345) and from Scripture, we can see that love is patient, kind, selfless, and—most importantly—something of God. God is love. And when we look at passages that describe love in the Bible, it should make us wonder, "Have I really, truly loved someone before?" 
The classical definition of love is to "will the good of another." As Christians, this should mean that we desire Heaven for whomever we love. Heaven is the highest good a person can strive for, so when we love someone, we desire Heaven for them.
However, lust is the exact opposite of this.
While love is wanting the good of another—and what's best for them—lust is only wanting whatever you want. It's about willing your own good: not in a heavenly way, but in a worldly way. Lust is the use of another person for your own pleasure, which is the direct opposite of what love is. 
It's important to note that even when lust is mutual—or within marriage—it's still a disordered version of what love should be. Yes, God has given us the gift of desire, but that doesn't mean we should seek to fulfill those desires in any way we choose. It's important that we recognize these desires and how we choose to fulfill them, because if we aren't striving for love, we aren't striving for Heaven. 
Want to dive deeper into the the Theology of the Body? Ascension's wildly popular program YOU: Life, Love, and the Theology of the Body is now available entirely online! Stream the course from the comfort of your own home today, and discover's God's vision for human intimacy.
---
Meet Jackie and Bobby Angel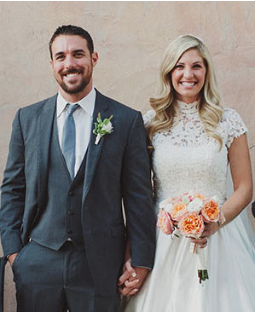 Jackie Francois Angel is a full-time worship leader and speaker. Bobby Angel is a campus minister and theology teacher at a Catholic high school. Married in 2013, they have four beautiful children and strive to grow in holiness each day!