Fr. Mark-Mary explains that true freedom comes from God—and it can't be taken away from you.
We often think of freedom as time or situations that are free from external boundaries, such as having free-time on our day off work, or being free to speak our minds under the Constitution. But what you'll see from the saints and Christ in scripture, is that freedom is something interior—something that can't be taken away.
As human beings created in the image and likeness of God, we all have free will. At our very core, we have interior freedom, allowing us to use whatever time we have to glorify the Lord. Once we recognize this interior freedom, we will start to settle into our identity as sons and daughters of Christ. We have a freedom available to us that is stronger than whatever is happening in our lives.
So how do we accept this great gift?
The first step has to be discipline. Without discipline and routine our day can become swept away by external forces, and we can lose sight of what God is asking us to do that day. Something as simple as making your bed and acknowledging Christ in the morning can align your day to his will.
Most importantly, however: we have to pray. Prayer is how we acknowledge the Holy Spirit within us. It's how we speak to God and it's how we hear him speaking to us. It's the fruit of the Holy Spirit that gives us freedom. Without taking time to pray daily, we'll find it increasingly more difficult to live beyond our external circumstances. It's a slow journey, but little by little—"poco a poco"—it will make us into saints one day.
If you want to find friar-level holiness outside of the monastery, Fr. Mark-Mary's new book Habits for Holiness: Small Steps for Big Spiritual Progress is essential. Get it on pre-order today!
Meet Fr. Mark-Mary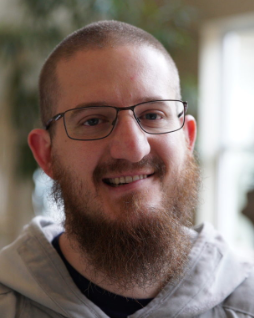 Father Mark-Mary was ordained as a Franciscan Friar of the Renewal (CFR) in 2018 and lives at a friary in the Bronx.
The mission of the CFRs is to wholeheartedly embrace Jesus through fidelity to the Church and her Sacraments. Paired with their commitment to prayer, contemplation, and study of Sacred Scripture, the CFRs serve those around them, especially the poor, in the footsteps of Christ.
Discover beautiful music from the CFRs and Fr. Mark-Mary's book Habits for Holiness: Small Steps for Spiritual Progress, both available from Ascension.