The best tips for staying focused in prayer involve the basic who and what questions, Fr. Josh Johnson says.
St. Theresa of Avila, a Doctor of the Church, said that whenever we pray, if it is to be authentic, we need to know who we are talking to and what we are talking about.
This is why the Church gives us traditional vocal prayers, to help us focus on the who and what of our prayer so that it's not all in our heads. Prayer in silence can be more difficult, because it's easier for your mind to drift when your prayers are not vocal.
However, praying out loud can also be distracting to others, so be considerate if you are praying out loud and there are others around you trying to pray.
In such situations, keep in mind that prayer can also be written down. Bring a prayer journal with you to prayer. By writing it down, we can see the words addressing who we are talking to and what we are talking about.
More about Adoration from Fr. Josh:
---
Meet Fr. Josh Johnson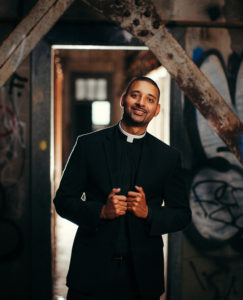 While Fr. Josh was raised Catholic, he didn't like the Church growing up. Then, one day in adoration, he fell in love with Jesus and received the call to become a priest.
Now, Fr. Josh is the pastor for Our Lady of the Holy Rosary Catholic Church in Louisiana, and he is a presenter in three of Ascension's programs: Altaration, YOU: Life, Love, and the Theology of the Body, and The 99 as well as the author of Broken and Blessed: An Invitation to My Generation.