If you want to know how to share the gospel, it's important to have the love and courage to not just give answers and corrections, but to ask questions. It is in asking questions from the heart that you convey true interest in the person's soul, instead of just trying to convince the person you're right.
Fr. Mike tells of a time when a student came to him saying he tries to evangelize, but just gets shut down. He tried to tell his good friend that he shouldn't be over-drinking, and this just made his friend mad. Fr. Mike told this student, that's not evangelization. That's correction.
A good friend or pastor, depending on the relationship, may be in a position to offer correction to those they love. But evangelizing is a different conversation. Evangelization is introducing Christ to others.
That's why Fr. Mike suggests asking questions when trying to introduce Christ to someone, because questions are a natural part of two people getting to know each other. If you are being Christ to someone, by asking them questions they are getting to know Christ just as much as you are getting to know them. Furthermore, asking genuine questions establishes a relationship and shows you are interested in where the person is coming from. 
Also, it's OK not to know the answers. Sometimes we get caught up in the concept communicated in St. Peter's words:
"Always be prepared to make a defense to any one who calls you to account for the hope that is in you, yet do it with gentleness and reverence."

1 Peter 3:15
There will be a time for that, but when that time comes the Holy Spirit will give you the words to say (Luke 12:12). Be content with just getting to know the person better first.
Also check out Ascension's parish mission program, The 99: A New System for Evangelization
---
Meet Fr. Mike Schmitz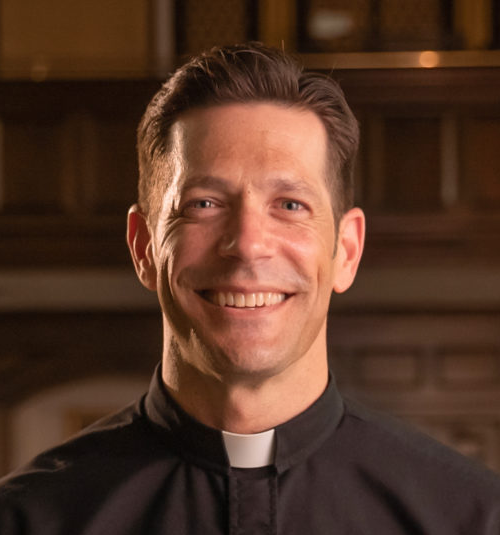 Fr. Mike Schmitz serves as Director of youth and young adult ministry for the Diocese of Duluth and as chaplain for the Newman Catholic Campus Ministry at the University of Minnesota-Duluth.
He is a presenter in Ascension's Chosen, Altaration, and The 99 programs, and has a channel on Ascension Presents.