It's important to learn how to listen well because listening can bring healing. Author Caryll Houselander is credited for saying "You can listen somebody back to life."
Mother Clare of the Franciscan Sisters of the Renewal says the beautiful thing about listening is you can do it in any human relationship and improve that relationship. The key is getting out of your own world. Good listening requires thinking outside your own experience. Then, once you do that, you get into the world of the one who is speaking.
Listening also requires listening not only to the words, but also to the person's heart to get the bigger picture of what they're saying.
Before Jesus raised of Lazarus from the dead, he wept. This is significant because he entered into the suffering of those who loved Lazarus. Sometimes sharing in suffering is a way to listen. "Rejoice with those who rejoice, weep with those who weep" (Romans 12:15).
Sometimes just being there and experiencing what the person is saying is enough. It's often counterproductive when you just try to offer what the person needs. Often, your part in the remedy is to just let it be and let the Holy Spirit grant healing in God's own time. By not trying to fix the problem someone is sharing with you, in a way you are revering the Holy Spirit and having faith that God will fix it.
Before anything though, "first I need to listen," says Fr. Mark-Mary.
On that note, thanks for listening, and know that God is always heeding every word when you speak to him in prayer. Let's learn from the way he loves us, and do the same for others by loving through listening.
---
Meet Fr. Mark-Mary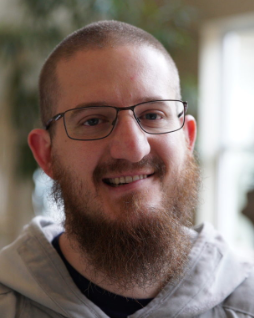 Father Mark-Mary was ordained as a Franciscan Friar of the Renewal (CFR) in 2018 and lives at a friary in the Bronx.
The mission of the CFRs is to wholeheartedly embrace Jesus through fidelity to the Church and her Sacraments. Paired with their commitment to prayer, contemplation, and study of Sacred Scripture, the CFRs serve those around them, especially the poor, in the footsteps of Christ.
Discover beautiful music from the CFRs here.