The first thing you should do to start reading and understanding the Bible well is get a Catholic Bible you know you will be inspired to read if you don't have one already. 
For beginners, start with the Gospels. Take fifteen to thirty minutes to read over a paragraph or a chapter. Lectio divina, or praying with Scripture, is a great way to make the most of this time. Read over the passage a few times. Ask God to speak to you through it. Use your imagination and put yourself in the scene and ask God to direct your thoughts. 
Once you've read through the Gospels, try reading the whole Bible in a year. Or if you want to just read the story, follow The Great Adventure Bible Timeline which gives a reading plan for the fourteen narrative books of Scripture. Jeff Cavins' Bible Timeline shows the cohesive story that ties together all of Scripture and highlights its main themes and covenants so you can get the big picture.
Because Scripture is the living Word of God, it can hit you differently depending on when in your life you read it:
"For the word of God is living and active, sharper than any two-edged sword, piercing to the division of soul and spirit, of joints and marrow, and discerning the thoughts and intentions of the heart."

Hebrews 4:12
Jackie and Bobby also encourage you to memorize Scripture, so you can offer its words to others who need to hear them, and so you can recall them in moments of temptation. 
Ascension has many Bible studies to help you dive deeper.
There is also The Great Adventure Catholic Bible, which has Jeff Cavins' Bible Timeline integrated into it. 
"Let the word of Christ dwell in you richly … "

Colossians 3:16
Most importantly, don't let the thought of reading Scripture become daunting. It doesn't have to be complicated. Remember what inspired St. Augustine to conversion: a few words he heard spoken by a child in a neighboring house, "tolle et lege" (pick up and read).  
---
Meet Jackie and Bobby Angel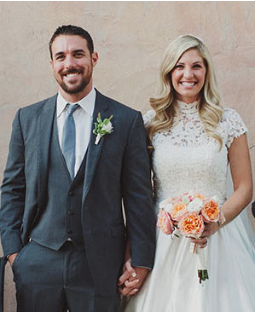 Jackie Francois Angel is a full-time worship leader and speaker. Bobby Angel is a campus minister and theology teacher at a Catholic high school. Married in 2013, they have four beautiful children and strive to grow in holiness each day!