Bobby Angel has a two-year-old son, and works at an all-boys school with seventh graders. He discusses some wisdom he has gained while striving to raise a good man, and helping to raise good men.
The old maxim "monkey see, monkey do" may have come from a father raising boys. As a father, how am I behaving, how am I talking to others, what shows am I watching? Do I go to church? Boys do and don't do what they see the men in their lives doing and not doing.
Risks and boundaries need to be well-balanced. Boys learn by testing boundaries. We need to encourage young boys to take risks to a reasonable extent. Instead of saying "Be careful," all of the time, say, "Pay attention." This will teach them to take on the risky challenges in their lives. Allow them to take adventures, and be there to back them up. 
Show him he is worth spending time with, even wasting time with. That free Saturday should be something fathers genuinely look forward to.
Fraternity matters. Boys need strong friendships. There are destructive and constructive friendships. Friendships where there are prayer and affirmation, where he is appreciated just for who he is, are important. 1 Timothy 5:1 says, "treat younger men like brothers … " Be a true friend to him, like a brother, and show him what a true friend is through the friendships in your life.
St. John Henry Newman said youth need a masculine religion. No guy wants to be nice. We want to go on adventure and lay our life down. Practice your faith with boldness. 
Pray for wisdom, and for God to help you put that wisdom to action in your attempts to be a good role-model for your son and any other boys in your life.
---
Meet Jackie and Bobby Angel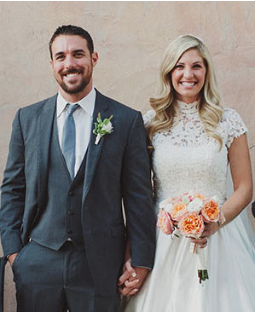 Jackie Francois Angel is a full-time worship leader and speaker. Bobby Angel is a campus minister and theology teacher at a Catholic high school. Married in 2013, they have four beautiful children and strive to grow in holiness each day!