Did Jesus feel fear the way that we do? Was he afraid as he faced his passion? Brother Pius joins Fr. Mark-Mary to discuss how his vision of the passion of Christ has changed over the years.
He used to have a plaster-like image of Christ in his mind, carrying the Cross with a courageous look on his face. But that doesn't seem very real. Through more meditation on the Passion, Brother Pius realized that Jesus was sweating blood and probably afraid. Fear is not sinful, and Jesus was like us in all ways but sin.
We need to learn what to do with fear when we experience it. We can spin our wheels and make things worse when we fear.
St. Therese of Lisieux said sometimes we have to endure the displeasure of being not what we thought we would be, and surrender that to the Lord.
Catholic artist and writer Caryll Houselander, during air raids in London in the 1940s, was anxious about being afraid. She was overcome by her own fear and thought to herself, perhaps the most important thing I can do for the Church and the world is offer up my fear to the Lord.
In the Garden of Gethsemane, Jesus tells his father about his agony. If he did it, so should we. Don't ignore any fear you may have. Give it to the Lord.
---
Meet Fr. Mark-Mary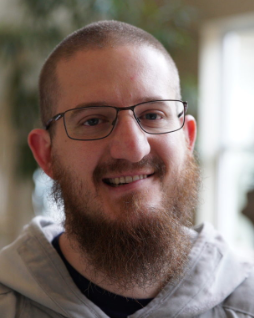 Father Mark-Mary was ordained as a Franciscan Friar of the Renewal (CFR) in 2018 and lives at a friary in the Bronx.
The mission of the CFRs is to wholeheartedly embrace Jesus through fidelity to the Church and her Sacraments. Paired with their commitment to prayer, contemplation, and study of Sacred Scripture, the CFRs serve those around them, especially the poor, in the footsteps of Christ.
Discover beautiful music from the CFRs here.