We've all met Christians who say one thing and do another. We've probably been guilty of hypocrisy ourselves at times.
Hypocrisy has caused many people to leave the Church, after learning about some bad thing their Catholic role model did or was doing. But every organization and institution has hypocrites. That's why we put our faith and trust in God, not people. Thomas A. Kempis, author of Imitation of Christ, said "Love people, trust God."
People are going to disappoint us, and we are going to disappoint others. When tempted to judge others, remember Jesus' words:
"How can you say to your brother, 'Brother, let me take out the speck that is in your eye,' when you yourself do not see the log that is in your own eye? You hypocrite, first take the log out of your own eye, and then you will see clearly to take out the speck that is in your brother's eye."

Luke 6:42
Perhaps you've met Catholics who make it look like they are living a great Christian life on the outside. But then you learn about their hidden life and it's a different story. Avoid the temptation to judge them, and focus instead on your own heart and your own interior life. This will help you grow in love and draw closer to God, who should be the focus of our life instead anyway.
---
Meet Jackie and Bobby Angel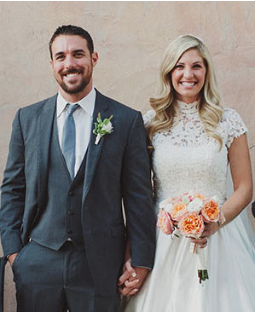 Jackie Francois Angel is a full-time worship leader and speaker. Bobby Angel is a campus minister and theology teacher at a Catholic high school. Married in 2013, they have four beautiful children and strive to grow in holiness each day!