The saints did not live a double life because they lived in the light. If you and I are going to become holy, we must keep nothing in the dark and live as if everything we do will become known one day—because everything will: 
"For nothing is hid that shall not be made manifest, nor anything secret that shall not be known and come to light."

Luke 8:17
We are all capable of great good and great evil, but only by the grace of God can we have a conversion of heart and persevere. It's all God's grace. To be holy is to live a whole, integrated, singular life that doesn't have another dark side no one knows about. Sin causes us to become duplicitous and not integrated. It causes disintegration. 
When it comes to avoiding sin, living in community is helpful. Having people who hold you accountable can save your soul. Encouraging others to take advantage of the sacraments can bring great blessings and strength to their lives. If you're a leader in the Church—a priest, youth leader, or religious teacher—and someone points out something you're doing that you know is wrong, be humble, admit to it, and commit to changing. We are all partakers in the struggle. Let others in the Faith help you carry your burden. Give it to God, because all of our ability to resist sin is by his grace anyway. 
"If we walk in the light, as he is in the light, we have fellowship with one another, and the blood of Jesus his Son cleanses us from all sin."

1 John 1:7
Alone we are weak, but with God – and with each other – we are strong.
---
Meet Jackie and Bobby Angel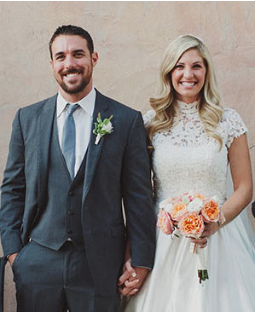 Jackie Francois Angel is a full-time worship leader and speaker. Bobby Angel is a campus minister and theology teacher at a Catholic high school. Married in 2013, they have three beautiful children and strive to grow in holiness each day!