I have over 27 years in youth ministry, and while it might be hard to believe, I have experienced countless occasions when teens who were initially skeptical about the Bible ended up falling in love with Scripture.
Truth has a funny way of breaking down walls. On one occasion, I was at a Life Teen night, and a snarky, sarcastic, very intellectual 16-year-old who was a self-proclaimed atheist started to challenge me. He wanted to go off about the history of the Bible and how it's not accurate because of x, y, and z. Today that teen's a priest, and I call him Father. I've watched the snarkiest kids, the ones who want to dismiss the Bible, end up getting ordained as priests, becoming youth ministers, theology teachers. The teens who push back may seem the least interested, but they're actually the ones who become the most interested if we approach it the right way.
We, as Leaders, Need to Be Unshakable
The key for a leader is to not be shakable. We have to be unflappable. If teens seem like they don't care about the Bible, it's way too easy for us to take it personally because that's what we teach. That's what we're there for. As leaders, we care a lot about what we teach, and we try to make our teens care. But the thing is, we can't make them care.
But … enthusiasm is contagious. So if you're enthusiastic about the Bible, and if you show that you are unflappable and have a certitude and calm about you, a belief in the truth of God's Word and in God's holy Church, that's going to be attractive to them. Those who are confident in themselves don't get defensive, and they don't overreact. And that's an attractive quality. The more you speak with boldness about the truth, the more teens will want to know the source of that truth. So it truly starts with our own demeanor. If we're excited about something, and if we are content, passionate, and zealous about something, it will show, and it will be contagious.
---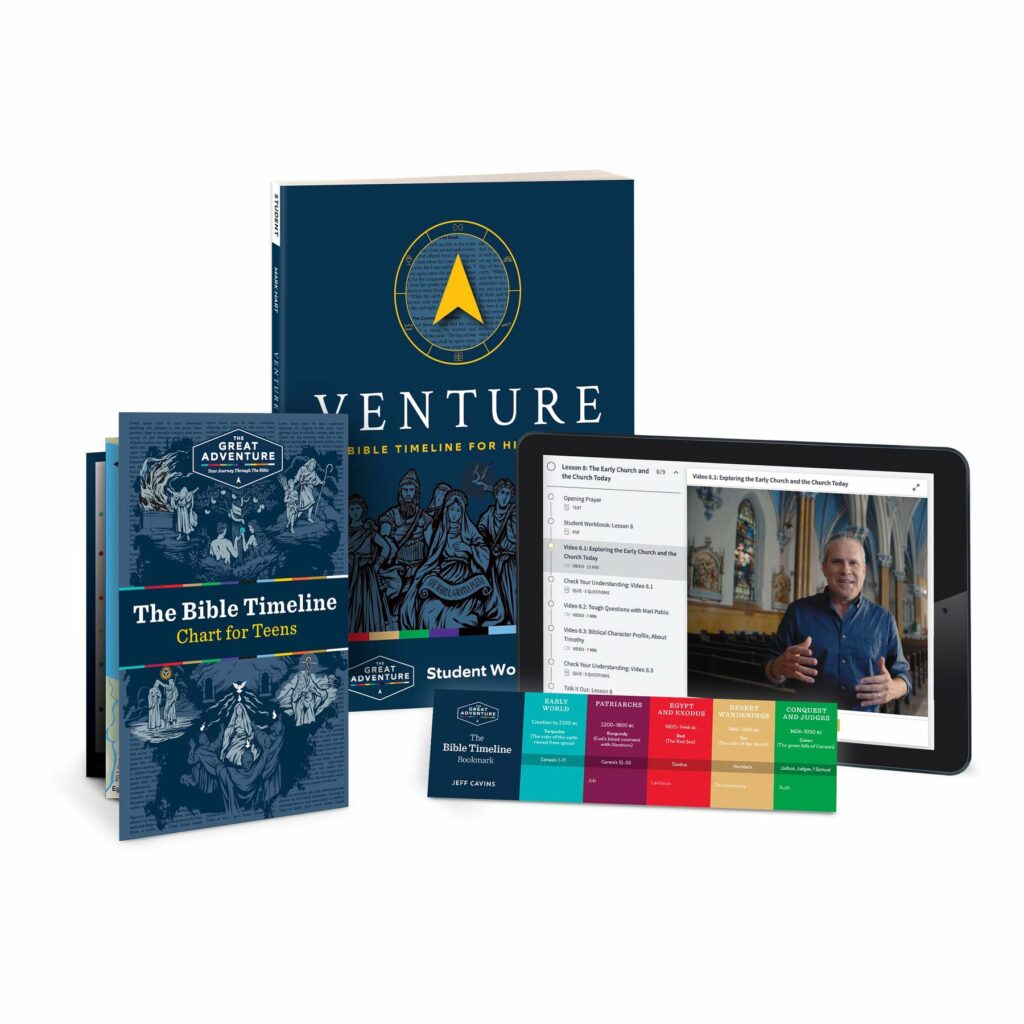 A Fun, Easy Way to Show Teens the "Big Picture" of the Bible
Venture: The Bible Timeline for High School introduces teenagers to the "big picture" of salvation history in a way that is simple to understand and easy to teach.
---
Teens Crave Truth
Teens crave truth. They want the truth. One of my favorite events that we do every year is called our Life Teen Leadership Conference. We take 500 high school juniors and seniors from a hundred or so different youth groups all over the country, and we go away for a full week to a college campus. We have sessions during the day and at night. And they stay in dorms. But one of the things I always say every year is that "there's going to be an optional Bible study tomorrow morning at 7 AM." And it takes place during the same hour that they can get breakfast. And I say, "You don't have to come, but I'll be there. We're going to take an hour and walk through some stuff. If you want to come, come." And every year, there are those 500 kids and around 350 or 450 of them show up at 7 AM for an optional Bible study. Some of them just run by the dining hall, grab a bagel, and I'll see them running in with it in their mouth. And they have their Bible and their journal. And they're running in. And some of these kids are off their time zone, and it's four or five in the morning where they're from. But they're showing up for an optional hour-long Bible study.
There's no skits, there's no music, there's no video. It's just me and God's Word. And it's not because I'm so special or I'm so charismatic and funny. Not at all. This shows how badly teens are craving the truth. They want someone to speak truth to them and to proclaim it boldly. It's not because it's me. Normally, it's because they know I'm going to speak truth to them, and be real with them, and answer their questions. And they know we're going to have fun. We're going to have some laughs and screw around a bit, and we're going to unpack it. Because I don't take myself too seriously. If you make yourself approachable and make opportunities to lead Bible studies, like Venture, teens will respond. They will show up. They have questions, and they desire and crave Truth.
We Need to Create Opportunities for Transformation to Occur
As leaders, we write teenagers off too fast. The desire is there, but sadly, the opportunity to engage on this level just isn't there very often. That's why I created Venture and The Teen Timeline and all our activities, workbooks, and studies – because we want to create opportunities for teens to have that same experience in your classroom.
You don't have to have a theology degree to teach Scripture. All you need are the right resources and the right posture and heart. And that's why these tools and resources are so important, because our teens deserve the Word of God and the Truth of God. And they desire it. We just need agents who actually stand in that gap and provide it for them.
If you're interested in learning more about Venture, I highly encourage you to check it out right here!
---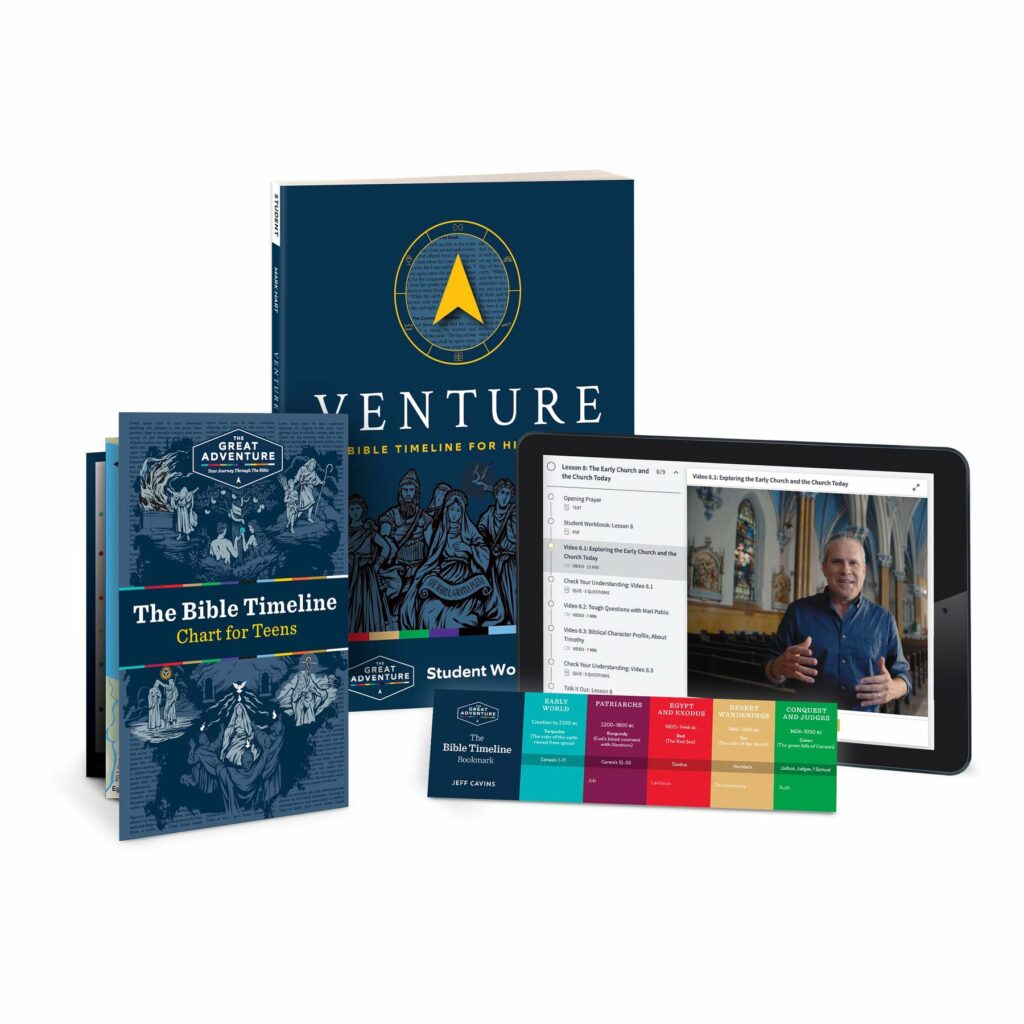 A Fun, Easy Way to Show Teens the "Big Picture" of the Bible
Venture: The Bible Timeline for High School introduces teenagers to the "big picture" of salvation history in a way that is simple to understand and easy to teach.
---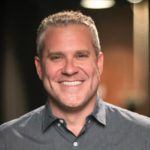 Mark Hart has helped transform Catholic youth and young adult Scripture study in parishes, homes, and classrooms with his wildly popular Bible study programs, Venture (for teens) and Encounter (for pre-teens) as well as Altaration (a program about the Mass for teens). Mark's humor and his passion for Scripture are helping hundreds of thousands of Catholics, young and old, begin to read and study the Bible in engaging, fun, and relevant ways. A devoted husband and father of four, Mark is also the main author and presenter in The 99, A New System for Evangelization.
---