Each year, Advent sneaks up on me.
The liturgical seasons of the Church express a natural rhythm, but in an automated and rushed age, I find it difficult to fully enter into them.
To be intentional this Advent, God isn't necessarily calling us to make lofty commitments consisting of grand gestures like monastic-level prayer or giving away everything we own.
God's heart supports sustainable rhythms for us, and he desires to enter into our everyday life in gentle ways—just like how he came into the world: no fanfare, no elaborate process, just gentle intentionality.
I've found that the best devotions and practices are the things I can incorporate into my everyday life. It's the little ways that I can align my life to God and build small moments of daily conversion into my schedule. I've learned that if devotions aren't practical or sustainable, they continue to only exist in a world where I have abundant time, money, and energy. (Spoiler alert: that world doesn't exist).
Just as in Lent, in Advent, the Church encourages us to prayer, fasting, and almsgiving throughout this season. Here are nine simple and easy ways to enter into the powerful and prayerful season of Advent.
1. Visit the lonely.
Throughout Advent, there are plenty of opportunities for volunteering in your parish and your community. But service doesn't have to be organized. Saint Mother Teresa said, "Loneliness and the feeling of being unwanted is the most terrible poverty." Reach out to someone who is lonely in your neighborhood, your church, or your extended family. Ask them to coffee, invite them for dinner, drop off some cookies, or have a phone conversation. Ask them questions about their lives. This type of simple connection is a tremendously powerful way to see Jesus in another person and help him or her realize the dignity within themselves.
2. Grow closer to the saints.
The liturgical calendar dedicates saints to each day of the week, and this is a beautiful way to connect with our community in heaven. Each day throughout Advent, read about the saint of the day and ask for their intercession for someone or something close to your heart. By Christmastime, you will have a whole group of saints cheering you on!
3. Pray with an Advent devotional.
It is easy for the Christmas story to feel far away from our lives—like a fairy tale that starts with, "Once upon a time in a faraway land." By using a guided Advent journal or program, you can be guided with meditations and prayers that will provide a manageable portion to pray through each day. Ascension's Rejoice! Advent Meditation journals can be found here!
---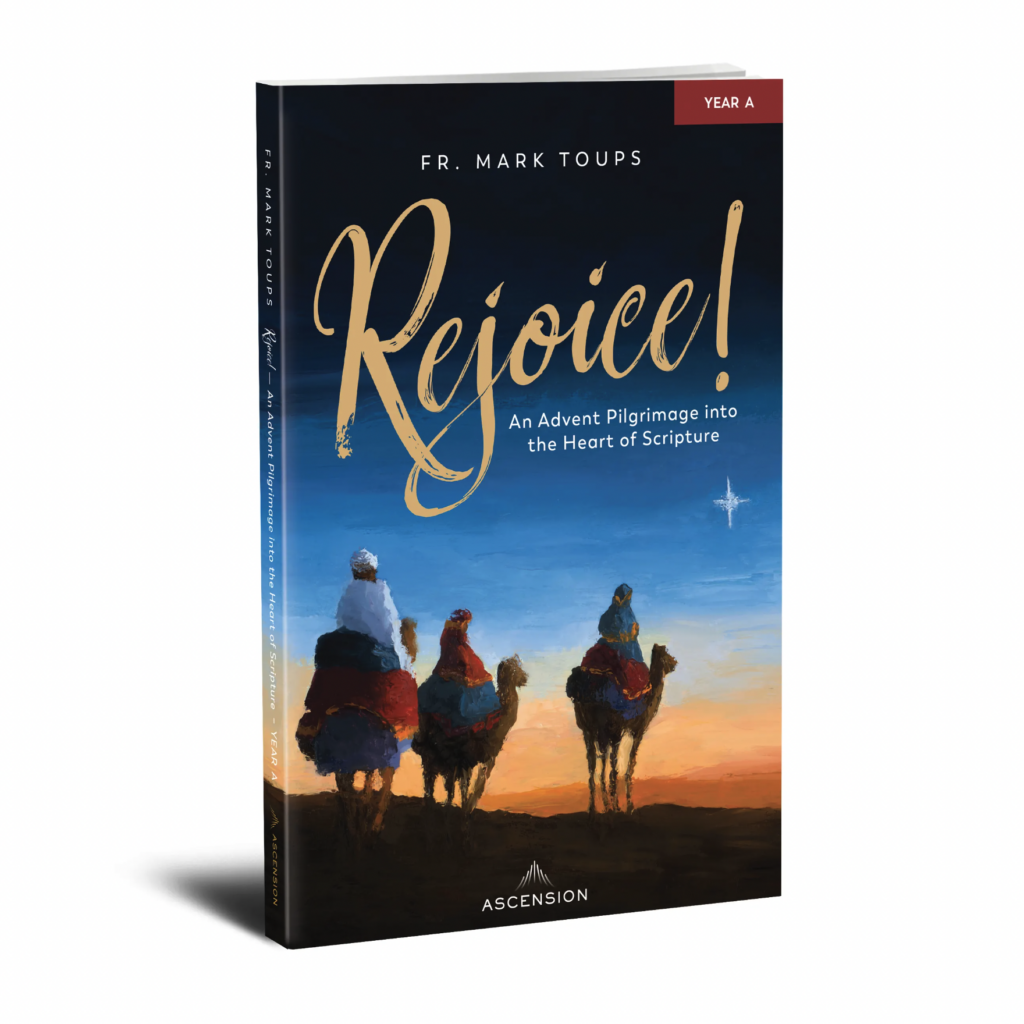 Experience a More Meaningful Advent Than Ever Before
Rejoice! An Advent Pilgrimage into the Heart of Scripture, Year A is a prayer resource that offers daily reflections on the Sunday mass readings that will help you enter more deeply into the season of Advent.
---
4. Use Christmas cards as prayer reminders.
As Christmas cards arrive during December, place them in a basket in a noticeable area. Once a day, pull out one card and pray for that person or family. You can write the person a note signed by your family or send them a text that says, "We prayed for you today."
5. Begin an evening practice of expectant prayer.
If you feel rushed and out of control, this is a profound step towards a prayer rhythm. At the beginning of Advent, set a daily reminder on your phone, your watch, or a note on your bathroom mirror—however it works in your daily rhythm. Sit in a quiet place and don't feel pressure to come up with words to pray or to read scripture. Allow yourself to wait for God's presence to break through in the middle of the crazy.
6. Write notes of encouragement.
The world is waiting for the promises of God to be fulfilled. Buy a stack of beautiful holiday cards and take a little time each evening to write a note of encouragement and gratitude to the people in your life. Include in this list both the people you know are struggling and those who seem to be doing just fine. We all need reminders that we're seen, loved, and known. Ascension's Rejoice! Christmas Cards feature beautiful sacred art that can serve this purpose well!
7. Visit a live Nativity.
In a live Nativity, real people dress up as the characters from the Christmas story. By seeing the characters as live people, it reminds us that Mary, Joseph, and the animals were real, too. Whenwe see the tangible nature of the Christmas story, the beautiful truths it reveals become tangible, too. Many churches put these live presentations on—find one in your community!
8. Fast.
In our society, it is very difficult to fast from all treats during Advent, since anticipatory Christmas goodies are served everywhere you go. Maybe the most effective fasting during this season would be to fast from noise, franticness, and media. Try to cut back on news, sports, entertainment, politics, frantic errands, and other avoidable distractions, hopefully opening up more space for prayer in your day.
9. Be patient with yourself.
St. Francis de Sales said, "Be patient with all things, but first of all with yourself." As we approach a variety of Advent practices, remember that more than anything, God wants your heart. He wants your imperfect efforts. He wants more for us, and not more from us.
May the peace of Christ dwell richly in your heart this season.
---
Julia Morgensai is passionate about using modern communication channels to share the gospel and God's beauty. Julia joined the Ascension team as a marketing associate after graduating from Central Michigan University with a Bachelor's degree in Integrative Public Relations. Julia loves writing, hiking, trying new things, and adventures of all forms.
---