Ahh Lent. A time of penance, abstinence, fasting, and having to dig for the recipes I don't normally cook. Raising kids means making meat. During the Fridays of Lent, it means branching out from cod. Here are some recipes I've collected over the years.
---
Awesome 7-Minute Mac & Cheese
2 ½ cups elbow macaroni (or cavatappi, shells, rigatoni, or fusilli)
2 cups vegetable stock
1 cup heavy cream
1 teaspoon salt
1 teaspoon pepper
1 tablespoon butter
½ cup milk
1 ½ cups shredded cheddar cheese
1 ½ cups shredded mozzarella cheese
Put the pasta, vegetable stock, cream, salt, and pepper into a pressure cooker. Set pressure cooker to high pressure and set timer for 7 minutes. Once the timer goes off, let the steam out of the pressure cooker using a quick release method. Add butter, milk, and the cheeses to the pot and stir.
---
Sweet Potato, Avocado, & Black Bean Tacos
1 ¼ pounds sweet potatoes (cut into ½ inch chunks)
1 tablespoon olive oil
1 teaspoon chili powder
½ teaspoon salt
1 can (15 ounce) black beans, drained and rinsed
½ cup salsa verde
1 avocado
8 corn tortillas
¼ cup cotija or feta cheese
Fresh cilantro
Toss the sweet potatoes with the olive oil, chili powder, and salt. Arrange on a large rimmed baking sheet, roast 30 minutes at 450 degrees.
In a saucepan combine the black beans with the salsa verde. Cook on medium until warm; stirring.
Serve sweet potatoes and beans with sliced avocado, crumbled cotija or feta cheese, and cilantro on the tortillas.
(from Good Housekeeping magazine, June 2017)
---
Tuscan Tortellini Soup
Three 14.5 ounce cans vegetable broth
28 ounce can diced tomatoes with basil, garlic, and oregano
1 bulb fennel, trimmed, quartered, cored, and sliced
1 cup chopped onion
8 cups chopped kale
9 ounce package cheese filled tortellini
2 tablespoons fresh oregano
1 – 2 teaspoons heavy cream
½ cup grated parmesan cheese
In a 6 quart slow cooker stir together broth, tomatoes with juices, fennel, and onion. Cover and cook on low 6 hours or high 3 hours.
If cooking on low, turn to high. Stir in kale, tortellini, and oregano. Cover. Cook on high 30 minutes more or until tortellini are tender. Stir in cream. Serve with parmesan cheese.
(from Better Homes & Gardens, January 2018)
---
Butternut Squash and White Bean Soup
1 large butternut squash
2 tablespoons olive oil
1 chopped onion
2 cloves garlic, finely chopped
1 tablespoon ginger, finely chopped
6 cups low sodium vegetable broth
6 sprigs fresh thyme
One 15 ounce can white beans, rinsed
One 15 ounce can chickpeas, rinsed
½ cup couscous
½ cup pistachios, roughly chopped
½ cup cilantro, roughly chopped
¼ cup dried apricots, finely chopped
1 sliced scallion
Cut neck off butternut squash (reserve base for another use). Peel and cut into ½ inch pieces. Heat 1 tablespoon olive oil in skillet on medium. Add squash and cook, covered, stirring occasionally for 8 minutes.
Meanwhile, in Dutch oven on medium, cook onion in 1 tablespoon olive oil, covered, stirring occasionally, 6 minutes. Stir in garlic and ginger. Cook 1 more minute. Add broth, thyme, and squash and bring to a boil.
Using a fork, mash the white beans and add to the soup along with the chickpeas.
Cook ½ cup couscous according to package directions. Fluff with a fork and fold in pistachios, cilantro, dried apricots, and scallion. Serve soup topped with couscous mixture.
(from Good Housekeeping, January 2018)

---
Roasted Salmon and Green Beans
Four 4-6 ounce salmon fillets with skin
1 small shallot, minced (about 2 tablespoon)
1 large lemon, zested and halved
¾ pound green beans, trimmed
½ cup fresh basil, loosely packed and chopped
½ teaspoon salt
6 tablespoons olive oil
Preheat oven to 375 degrees. Place salmon, skin side down, in a shallow baking pan.
In a small bowl, combine shallot, lemon zest, and salt; stir in olive oil. Spoon about 2 teaspoons of the mixture over top of each fillet. Set remaining mixture aside.
Roast salmon 10-15 minutes or until fish flakes when tested with a fork. Meanwhile, steam green beans 5 minutes or until crisp-tender. Transfer to a platter. Toss with reserved shallot mixture and half the basil; season to taste with salt. Remove skin from salmon and place fillets on green beans. Squeeze lemon over fish, top with remaining basil.
(from Better Homes & Gardens, March 2018)
---
Vegan Butternut Squash Soup (from TheMovementMenu.com)
2 tablespoons ghee or avocado oil
1 large yellow onion, diced
8 cloves roasted or raw garlic
24 ounces butternut squash cubes, teaspooned or microwaved until fork tender
2 cans coconut milk
4 cups vegetable broth
½ teaspoon thyme
1 ½ teaspoons cinnamon
3-4 teaspoons chili powder
¾ teaspoon nutmeg
2 cinnamon sticks
3 sprigs fresh rosemary
Sea salt to taste
Black pepper to taste
Cook down the onions. Heat a large pot on medium and cook onions in your butter/oil until translucent. Add in the garlic cloves and cubed butternut squash. Cook for another 4-5 minutes until your entire kitchen begins to smell.
Add in the coconut milk, broth, and spices. Cook on medium until the soup comes to a low boil. Then, lower the heat so the soup is simmering for another 20-25 minutes.
Remove the soup from the heat. Discard the rosemary sprigs and cinnamon sticks. Blend the soup in a high-speed blender or with an immersion blender until smooth and creamy. Adjust the salt and pepper according to your taste preference.
(from TheMovementMenu.com)
---
Snappy Italian Sweet Potato Spaghetti Bowls
2 sweet potatoes (peeled)
1 teaspoon minced garlic
¼ cup chopped onion
1 tablespoon butter or avocado oil
½ teaspoon pepper
Dash of sea salt
1 teaspoon red chili pepper flakes
½ cup fresh kale or spinach
For the zesty red tomato sauce:
14.5 ounce can crushed or diced tomatoes
2 garlic cloves peeled
3 marinated artichoke hearts
¼ teaspoon each salt and pepper
Topping and mix ins:
Black olives
1-2 tablespoon capers
Fresh herbs like basil or oregano
Peel sweet potatoes and spiralize them into noodles. If you don't have a spiralizer, you can julienne them and make more of a stir fry. Place sweet potato spaghetti noodles in small microwave safe bowl with 1 tablespoon of water. Microwave for 30-40 seconds to soften. Set aside.
Drain the tomatoes. Place all sauce ingredients into a food processor or blender. Blend until smooth.
Place garlic, onion, and oil/butter in a large skillet or pot. Fry for 1-2 minutes until fragrant and onion is softened. Mix in tomato sauce and let it cook for another minute or so on medium. Add sweet potato noodles, kale or spinach, and the rest of the spices. Toss and cook for 8-10 minutes on medium or until kale/spinach is softened and the noodles are done to your liking. Keep tossing the noodles with the other ingredients every few minutes.
Add olives and capers and toss. Garnish with fresh basil or oregano. Salt and pepper to taste.
(from cottercrunch.com)
---
Eggplant and Tomato Masala with Chickpeas
1 cup uncooked basmati rice
3 tablespoons olive oil, divided
1 teaspoon cumin seeds
1 teaspoon mustard seeds
½ teaspoon coriander seeds
1 medium white onion, halved and thinly sliced (about 2 cups)
2 medium Japanese eggplants (about 12 ounce) cut into ½ in rounds
One 14.5 ounce can chickpeas, undrained
One 14 ounce can fire-roasted diced tomatoes
½ cup finely chopped fresh cilantro stems, plus 2 tablespoon leaves for serving
1 teaspoon kosher salt
½ teaspoon garam masala
¼ teaspoon whole milk yogurt
Rinse rice until water runs clear and drain. Transfer to a saucepan and add 1 ½ cups water. Bring to a boil over high; reduce heat to medium and simmer, covered, until liquid is absorbed and rice is tender, about 15 minutes. Remove from heat; let stand, covered, for three minutes. Fluff with a fork.
While rice cooks, heat 1 tablespoon oil in a large, high-sided skillet over medium-high. Add cumin, mustard, and coriander; cook, stirring constantly until fragrant, about 1 minute. Add onion; cook, stirring occasionally, until tender and golden, about 8 minutes. Push onion mixture to sides of skillet. Add eggplants and remaining 2 tablespoon oil to center of skillet, cook undisturbed, until eggplants are lightly browned on 1 side, about 2 minutes.
Add chickpeas with their liquid, tomatoes, cilantro stems, salt and garam masala to skillet and stir to combine. Reduce heat to medium-low; simmer, stirring occasionally, until eggplants are tender, about 5 minutes.
Serve eggplant and tomato masala over rice, garnished with yogurt and cilantro leaves.
(from Real Simple, October 2019)
---
Quinoa with cucumbers, dill and feta
1 cup quinoa
Coarse salt
1 teaspoon olive oil
1 cup diced English cucumber
⅓ cup roughly chopped fresh dill
⅓ cup (1.5 ounce) feta, crumbled
2 teaspoons fresh lemon juice
In a small saucepan, bring quinoa, 1 ½ cups of water and 1 teaspoon sea salt to a boil over high. Reduce to a medium simmer and cook until water evaporates, about 15 minutes. Transfer to a medium bowl and let cool 5 minutes.
Stir cucumber, dill, feta, 1 teaspoon olive oil and lemon juice with quinoa. Season with salt and pepper.
(from Everyday Food)
---
Artichoke and Mushroom Pasta
6 ounces angel hair pasta, cooked and drained
8 ounces white mushrooms, thinly sliced
3 tablespoons olive oil
2 cloves garlic, thinly sliced
1 teaspoon dried oregano (more to taste)
2 teaspoons fresh lemon juice
1 ½ to 2 cans (14 ounce) artichokes, drained and sliced or 1 (9 ounce) package frozen
1 ½ cups liquid from cans of artichokes
1 teaspoon grated lemon peel
¼ teaspoon dried red pepper flakes
5 tablespoons butter, room temperature
¾ cup (approx. 2 ounce) grated Asiago cheese, plus more to pass
1 ½ tablespoon chopped parsley
Heat 2 tablespoons butter in a heavy skillet over medium-high heat. Add mushrooms, garlic, and oregano and saute until golden (approx. 4 minutes).
Add artichokes and saute about 4 minutes. Add stock, lemon juice, lemon peel, and crushed pepper and cook until slightly thickened (about 5 minutes).
Add butter and whisk until melted. Add cooked pasta and toss until coated. Add grated cheese and toss to coat. Season to taste with salt and pepper. Sprinkle with parsley and serve with additional cheese.
---
Sweet Potato Burritos
1 tablespoon vegetable oil
1 onion, chopped
4 cloves garlic, minced
6 cups canned kidney beans, drained
2 cups water
3 tablespoons chili powder
4 teaspoons prepared mustard
2 teaspoons ground cumin
1 pinch cayenne pepper, or to taste
3 tablespoons soy sauce
4 cups cooked sweet potatoes, mashed
12 (10 inch) flour tortillas
8 ounces shredded cheddar cheese
Preheat oven to 350 degrees. Heat oil in a medium skillet and saute onion and garlic until soft. Mash beans into the onion mixture. Gradually stir in water; heat until warm, 2-3 minutes. Remove from heat and stir in the soy sauce, chili powder, mustard, cumin, and cayenne pepper.
Divide bean mixture and mashed sweet potatoes evenly between the tortillas; top with cheese. Fold tortillas burrito style around the fillings and place on a baking sheet. Bake until warmed through, about 12 minutes.
(from allrecipes.com)
---
Pasta with Spicy Black Bean Sauce
1 medium onion, coarsely chopped
2 cloves garlic, minced
1 tablespoon vegetable oil
15 ounce can black beans, rinsed and drained
16 ounce can tomatoes with Mexican seasoning, undrained, coarsely chopped
½ cup picante sauce
1 tablespoon chili powder
1 teaspoon oregano
2 teaspoons ground cumin
4 cups cooked orzo or rotini
Shredded Monterey Jack or mozzarella cheese
Chopped fresh cilantro
Cook onion and garlic in oil in large skillet over medium-high heat until onion is tender. Stir in beans, tomatoes, picante sauce, chili powder, cumin, and oregano. Bring to a boil. Reduce heat, cover, and simmer 15 minutes, stirring occasionally.
Remove cover and cook over high heat until liquid is reduced and sauce is thickened to desired consistency. Serve over pasta, sprinkle with cheese and cilantro.
---
Amped Up Vegetable Nachos
2 tablespoons extra-virgin olive oil
1 cup chopped red onion
2 cloves garlic, minced
4 cups roughly chopped stemmed lacinato (dinosaur or Tuscan) kale leaves
Kosher salt
Freshly ground black pepper
1 ½ cups fresh or thawed frozen corn kernels
15 ounce can refried beans
2 tablespoons low-sodium vegetable broth
2 tablespoons pico de gallo
40 tortilla chips
2 cups freshly shredded Monterey Jack cheese
10 pickled jalapeno slices
1 cup diced ripe avocado
Preheat the oven to 375 degrees.
In a large nonstick skillet over medium-high heat, heat 1 tablespoon of the olive oil until shimmering. Add the onion and garlic and cook, stirring with a wooden spoon, until the onion is soft and translucent, about 3 minutes. Add the kale, ½ teaspoon salt, and ⅛ teaspoon pepper and cook, stirring, for 1 ½ minutes. Add the corn and cook for an additional 1 ½ minutes. Transfer to a bowl and set aside.
Wipe out the skillet with paper towels and return it to medium-high heat. Add the remaining 1 tablespoon olive oil and the refried beans and stir. Pour in the broth and mix until incorporated. Add the pico de gallo and stir to combine. Set aside.
Dive the tortilla chips between two 9×13 inch baking dishes. Spoon the beans over the chips in each baking dish. Top each with half the vegetables and sprinkle cheese evenly over each. Scatter the jalapeno slices on top. Bake until the cheese is melted, about 7 minutes. Switch the oven to broil and broil until the cheese is golden and bubbling, 1 to 2 minutes.
Serve with additional pico de gallo and the avocado.
(from Mostly Plants)
---
Healthy Vegetable-Fried Farro
2 cups farro
4 large eggs
2 tablespoons plus 1 ¼ teaspoon low-sodium soy sauce
2 teaspoons plus ¼ teaspoon toasted sesame oil
1 tablespoon plus 2 teaspoon peanut oil
1 cup sliced carrots, ¼ inch thick rounds
2 ½ cups 1-inch broccoli florets
2 cloves garlic, minced
1 teaspoon grated fresh ginger
4 scallions, thinly sliced, green and white parts separated
1 cup frozen petite peas, thawed
Kosher salt
½ teaspoon rice vinegar
Sriracha or chili garlic sauce (optional)
In a medium saucepan, cook the farro according to the directions on the package. Drain well and let cool. (The farro can be made ahead of time and refrigerated.)
In a small bowl, beat the eggs with ¼ teaspoon of the soy sauce and ¼ teaspoon of the sesame oil.
In a large nonstick skillet over medium-high heat, heat 1 teaspoon of the peanut oil until shimmering. Add the egg mixture and scramble until it sets, 3 to 4 minutes. Transfer the egg to a plate, cut into bite-size pieces, and set aside.
Wipe the skillet clean, add the remaining 1 tablespoon plus 1 teaspoon peanut oil, and heat over medium-high heat until shimmering. Add the carrots and cook, stirring, for 2 minutes. Add the broccoli and cook until the vegetables are fork-tender, 3 to 4 minutes. Stir in garlic, ginger, scallion whites, and peas and cook for 2 minutes. Season with ½ teaspoon salt.
Using a wooden spoon, push the vegetables to the sides of the skillet, making a well in the center. Add the cooked farro to the well and gradually mix the vegetables into it.
Add the remaining 2 tablespoons plus 1 teaspoon soy sauce, the remaining 2 teaspoons sesame oil, and the vinegar. Stir in the scrambled eggs and mix well.
Serve hot, garnished with the scallion greens. Pass the Sriracha or chili garlic sauce separately, if desired.
(from Mostly Plants)
---
Ricotta and Spinach Calzones
10 ounces frozen chopped spinach, thawed and squeezed dry
8 ounces (1 cup) whole-milk ricotta cheese
4 ounces mozzarella cheese, shredded (1 cup)
1 ounce Parmesan cheese, grated (½ cup)
1 tablespoon extra-virgin olive oil
1 large egg, lightly beaten with 2 tablespoon water, plus 1 large yolk
2 garlic cloves, minced
1 ½ teaspoon minced fresh oregano
⅛ teaspoon red pepper flakes
1 pound pizza dough
Adjust oven rack to lower-middle position and heat oven to 500 degrees. Cut two 9-inch square pieces of parchment paper. Combine spinach, ricotta, mozzarella, Parmesan, oil, egg yolk, garlic, oregano, and pepper flakes in a bowl.
Place dough on lightly floured counter, divide in half, and cover with greased plastic wrap. Working with 1 piece of dough at a time (keep other piece covered), use rolling pin to flatten dough into 9 inch round. Transfer each piece of dough to parchment square and reshape as needed.
Spread half of spinach filling evenly over half of each dough round, leaving 1-inch border at edge. Brush edge with egg wash. Fold other half of dough over filling, leaving ½ inch border of bottom half uncovered. Press edges of dough together and crimp to seal.
Using sharp knife, cut 5 steam vents, about 1 ½ inches long, in top of calzones. Brush tops with remaining egg wash. Transfer calzones (still on parchment) onto baking sheet, trimming parchment as needed to fit. Bake until golden brown, about 15 minutes, rotating baking sheet halfway through baking. Transfer calzones to wire rack and let cool for 5 minutes before serving.
(from The Complete Vegetarian Cookbook)
---
Do you know of any other great recipes for Fridays during Lent. Feel free to share them in the comments! Thanks and have a blessed Lent.
---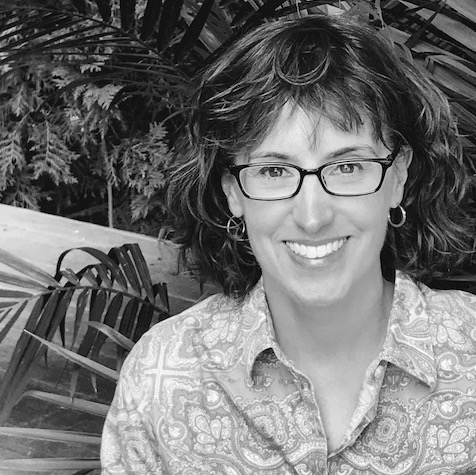 Merridith Frediani's perfect day includes prayer, writing, unrushed morning coffee, reading, tending to dahlias, and playing Sheepshead with her husband and three teenagers. She loves leading small faith groups for moms and looking for God in the silly and ordinary. She blogs and writes for her local Catholic Herald in Milwaukee.