As a Catholic company, we take pride in the fact that the Church has always embraced a spirit of renewal throughout its two-thousand-year history. It is forever growing and changing while remaining unchanged in its core beliefs, essence, and mission. Through the ages, the Church has struggled and succeeded in portraying the "ever ancient, ever new" quality of God which compelled St. Augustine to return to the Faith after finding nothing better in the world.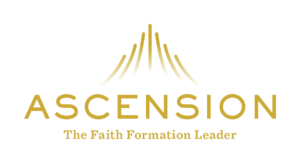 This is the Faith that Ascension has committed itself to sharing over the past twenty years. Just like the Church, Ascension has grown and changed while remaining true to its mission. That mission is to present the truth and beauty of the Catholic Faith, through powerful media, as the sure path to authentic happiness in a hurting world.
Despite how much has changed over the past twenty years, through God's grace and blessing, we have remained true to this mission while continually seeking effective ways to renew and fortify our evangelizing spirit. In fact, in today's culture, we believe a steady and gradual change to our means of evangelizing is necessary in order to remain true to our mission and to the Faith.
Ever conscious of this need for ongoing conversion, we saw the start of 2018 as the opportune time to catch up to what we've become and to re-introduce ourselves to friends old and new. What was once a company that produced mainly books and individual faith resources, is now a multimedia faith formation network with several offerings, such as state-of-the-art study programs on a digital platform, online video series and podcasts with popular Catholic speakers, blog articles from a variety of respected Catholic writers, books that continue to share solid Catholic teaching, and more. Our willingness to change while remaining faithful to the Church has made our company the leader in Catholic faith formation.

We are confident that you will agree with this distinction once you become a subscriber to our multimedia channels (if you haven't already), and select to receive any or all of our valuable free content in your email inbox.

When you're ready to take the next step, you can start or find a study group near you, on your way to leading a study of your own or joining one with your friends or parish community. A free membership will give you access to a full-session preview for each of our fifty studies! 
To reflect this shift from just traditional publishing to all-inclusive multimedia publishing, we are pleased to introduce our new logo and company branding—along with our new, shortened name. Ascension Press is now simply Ascension.
What's in a Name?
The name Ascension Press had the positive, aspirational feel of Jesus' ascension, an epic event in human history. Jesus' ascension into heaven is the crowning jewel of the entire Paschal Mystery. After his work of redemption was completed in his passion, death, and resurrection, it was Jesus' destiny to ascend to his Father. In fact, as followers of Christ, this is our destiny as well. So, Ascension Press was a fitting name for a company whose mission would be to publish books and study programs that would help Catholics achieve this destiny.
Our new logo and branding aims to communicate how our focus on traditional publishing coincides with our focus on new media platforms and approaches, in order to reach more people and in better ways. It's important to realize that we dropped the "Press" not because we no longer publish books and consumer focused products. To the contrary, we plan to publish more than ever.
Symbolism in Our New Logo
In all of our studies, you will come to know the aspirational reality of our spiritual journey as Catholics. This "ascent" to the Father through the power of the Holy Spirit is communicated through our new logo. Through the upward movement of the logo, it seeks to illustrate that our destiny is not of this world. 
One may also see a mountain in the logo, a potent symbol in our Catholic Faith for many reasons. From the Ten Commandments to the Transfiguration, God has revealed pivotal parts of his plan to humanity on the summit of holy mountains. The relevance of this plan in our own lives, also, is not forgotten in the logo. The lines that coalesce at the top symbolize the separate lives and journeys in Christ here on earth that, with God's grace, ultimately lead to union with God.
The letter A, the first initial in our name, can also be discerned in the logo. Gold was chosen to represent heaven, as well as to communicate a commitment to high standards in the company's work and mission.
We seek to communicate that mission down to the most minute detail. To that end, you will discover that we have reorganized our website to coincide with the announcement of our new name and logo. On our website, you will now find that we have renamed the navigational tabs so that our greatest offerings are at the forefront. The four tabs—Parishes & Schools, Small Groups, Shop, and Channels—aim to get straight to the point and help you find exactly what you came to our site to find. 
We hope that wherever you see this logo, and wherever you visit on our website, you are reminded of the mission—not only our mission but yours as well—to share the gospel with others in every way we can.
Become a Member 
So as we begin the New Year, we encourage you to open a free account as an Ascension member and partner with us to bring the truth and beauty of the Catholic Faith to a hurting, searching world. It's free to join and you get access to great content and a faith-filled community.
---
You May Also Like: